1-Net has upgraded its data center connectivity network in Singapore by working with Epsilon and KVH. The data center operator plans to interconnect data centers in Asia, and this upgrade allows 1-Net's customers to connect to 14 other sites in Singapore at either 1Gbps or 10Gbps.
The service provider says customers will be able to drive better business performance through a "data center corridor" which includes data centers operated by AT&T, BT, Digital Realty, Equinix, Global Switch, KDDI, Pacnet, RackCentral, StarHub and ICONZ-Webvisions, and should provide lower latency along with connections to a variety of cloud and application providers. Other benefits include potentially lower cost of content distribution, as well as the ability to set up diversified routes for greater resiliency.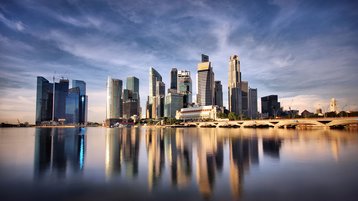 Better together
"We are happy to announce the expansion of our data center network with Epsilon and KVH," said Mr. Wong Ka Vin, managing director of 1-Net. "With the data center corridor, our customers will be able to leverage the connectivity to other data centers in Singapore and the rest of Asia as they look to expand their business operations in the region, offering them greater flexibility, resiliency and cost reduction."
Traditionally, network peering can only be established with network providers who have a point of presence (PoP) within the same data center. Alternatively, a separate arrangement would have to be made through a telecommunication operator to establish a private link to the data center of choice, though the cost and effort to do this can be substantial for most organizations.
Yet increased consumption of data and third-party services is expected to represent a US$53.4 billion opportunity in the data center and cloud services space by 2018, according to analyst firm Frost & Sullivan. 1-Net is clearly looking to tap into this with its interconnected data center network to enable large data transfers between data centers.
1-Net late last year also signed a memorandum of understanding (MOU) with Cyber CSF in Indonesia, TCC Technology (TCCT) in Thailand, and telecommunications service provider PCCW Global in Hong Kong to form a cost-effective inter-connection in the region. Datacenter Dynamics understood that 1-Net is also actively working on establishing similar arrangements with other overseas data centers.
Separately, 1-Net is building a new 1-Net North data center that will be Singapore's first Tier III designed and constructed facility certified by Uptime Institute, which is expected to be ready in the last quarter of 2015.