Amazon Data Services Ireland Limited (ADSIL), a subsidiary of AWS, has finally secured planning permission for the first building in a planned €1 billion ($1.2bn) data center project in north Dublin.
An Bord Pleanála, a body that rules on matters related to planning decisions made by local authorities, dismissed an appeal lodged by Athenry-based engineer Allan Daly, who also objected to Apple's data center in Galway. It is believed the appeals delayed the project by around nine months.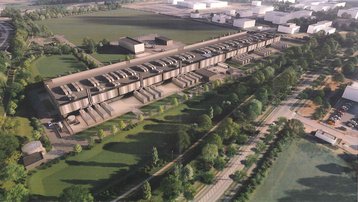 A matter of power
Amazon plans to build up to eight data centers on the site in Dublin as part of "Project G," its largest data center campus in Ireland. Construction on the first 223,000 square foot (20,717 sq m) building was expected to commence last year and take approximately 18 months to complete, employing about 400 workers at its peak.
However in April 2016, Daly voiced concerns about the cloud company's environmental impact, questioning whether Ireland's renewable energy infrastructure would be able to support the development. In a subsequent hearing in September, ADSIL withdrew plans for a proposed 220kV substation and said that a grid connection did not form part of the application.
John Spain, a planning consultant for ADSIL, told the board that the data centers would use around 35MW of electricity when fully built out. "Based on 2016 demand levels, this represents approximately 0.5 percent of the single energy market demand on the island of Ireland," he said.
The appeals board approved the data center after finding that it would be consistent with European and Irish government policy concerning the development of digital infrastructure, would not serious diminish the surrounding area and would not breach any development policies and objectives.
Concerns about Ireland's grid keeping up with demand have caused the country's majority state-owned Electricity Supply Board to call power-hungry data centers a "principal risk." They have also led one company to pursue building gas-powered data centers, and pushed Microsoft to design an 18MW gas-power station for its data center in the Grange Castle Business Park, Clondalkin (that project is also facing opposition).
But such fears have been balanced against the Irish government's desire to embrace data center development. After Apple's project in Galway was delayed by three years due to multiple appeals, including one by Daly, Ireland's state head Taoiseach Leo Varadkar pledged to "do anything" to get the tech giant to recommit to building the facility.
Ireland plans to change how it approaches future data center projects. RTÉ News reported that applications will be processed directly by the state-level An Bord Pleanála, rather than going through local authorities.
A government spokesperson added that the Cabinet is developing a detailed position on the role and importance of data centers, including on their designation as strategic infrastructure and on the requirement to be powered by renewable energy where possible. Such changes would not affect the potential Apple project.
As for Amazon's Project G, a senior planning inspector with the appeals board, John Desmond, said that the provision of digital infrastructure like this facility "must surely be viewed positively."