With Edge data centers popping up all over the map, competition for the Edge data center project of the year has never been stiffer.
Caroline Puygrenier from Interxion, one of the judges for this year's award, spoke to DCD about the difficulty of choosing a winner.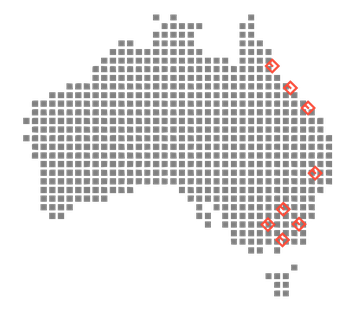 "Edge data centers are the future. There's so much information, so many new projects in different zones, different geographies, and it's so difficult to then pick the Edge Data Center Project of the year."
This year's award, sponsored by Viavi, went to the well-deserving Edge Centres' The Grafton, an Edge facility in the beautiful Australian New South Wales.
Jonathan Eaves, CEO and Founder of Edge Centres proudly accepted the award via video link from the Edge Centres HQ in Australia.
Collecting the award on behalf of Eaves, category finalist David Keegan, chief executive of DataQube, explained to DCD why he thinks the Edge is such an important and exciting area of the industry.
"The Edge is in its infancy and nobody really knows what the Edge is. It's people developing products, whether it's robotics, whether it's AI. I think we're starting a new evolution of the interconnected world and I think Edge is going to be the predominant technology growth medium going forward in the future."
Baring this in mind, as we move into the future, sustainability is essential to the continuation of the industry, and this was the value that set The Grafton apart from its competition.
Sustainability is climbing its way to the top of providers' and end users' priority lists, with increased climate events serving as a poignant reminder that as a high energy consumer, the data center industry has a responsibility to green its processes.
Through a happy accident, the site was never connected to a utility grid. Unexpected delays to the approval process led to the site innovating and relying on 100 percent solar power.
Edge Centres has proven that even if 100 percent renewable energy was not your initial plan, it can be achieved with hard work, innovative technology, and a willingness to commit the time and resources.
The particular technology used by Edge Centres in the facility was solar clipping technology which limits the feed into each inverter, thus limiting reliance on backup battery power. The result of which is a facility with a PUE of 1.1 at peak loads.
Viavi'a Data Center Account Manager Adrian Parry spoke to DCD about the value of the Edge data center project award.
"As market leaders in network testing, we're obviously thrilled to be sponsoring all of the entrants and finalists in this award here tonight. While the Edge is still considered very much in its infancy, there's an awful lot more to come. Thankfully with innovative companies like those here, they are really leading the way, and frankly, they deserve their evening the spotlight tonight."