Forget what they say about best laid plans, the best laid plans are exactly that: the best, particularly when it comes to erecting a data center. From a germ of an idea, you need to be able to design your optimal facility, acquire the optimal materials, ensure they're delivered to site on time and ultimately get them standing (also on time.)
There are a lot of moving parts on the data center construction timeline, which can often be cause for chaos. And with data having been dubbed the crude oil of the 21st century, it's understandable many businesses are demanding their facilities to be built not only at scale, but at speed, to house their precious assets.
But with historically long lead times and generally inconsistent deal making, Metromont Corporation decided to flip the script, taking your data center project from proof of concept, to immaculate conception.
As one of the largest manufacturers of precast concrete in the US (the first if you're just counting total precast data centers, but let's not be pedantic) over the last 20 years alone, Metromont has built up a resume exceeding more than eighteen million square feet of all precast data center projects, many of which are located in Northern Virginia's "Data Center Alley." So, it's safe to say that the company has earned its stripes when it comes to authority in data center construction.
Metromont's total precast systems provide secure storage for today's most valuable commodity, offering the best defence against extreme weather, natural disasters and man-made impedance. A triple threat if you will.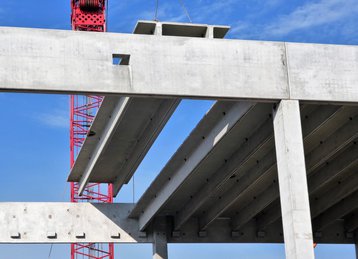 Why precast?
The data center business is extraordinarily fast paced and chaotic, anyone involved in it can tell you that. Operators simply don't have the luxury of entertaining long lead times when they want to get a facility up and running, and with shortages and fluctuating costs of materials such as steel currently rife, unsurprisingly, it makes constructing a data center somewhat challenging.
Enter, precast concrete. This durable, high quality, aesthetically flexible material is a smart choice for any project, not just the data center, where its advantages over steel or CIP concrete are particularly alluring.
In an environment where hyper-fast schedules and cost-efficiency are critical, precast's flexibility in space planning and increased return on investment make it a truly optimal choice for the data center. Let's break it down:
Speed-to-market
Manufactured in a controlled plant environment, precast parts can be quickly erected. Faster erection equals a shorter construction schedule and therefore reduced overhead costs.
Sustainability
Sustainability has been dominating industry headlines for a while now, with many customers now demanding contractual sustainability agreements that incorporate CO2 reduction techniques.
Integrated project delivery
Structural precast components interlock to support one another so they can be erected in a relatively short period of time. Simpler installation requires fewer crew members, which means less traffic and waste on a job site.
This single intensity activity means you don't have the usual melting pot of personnel vying for common access onsite. Construction is simply a case of showing up with the precast parts, two cranes and around 25 people, who erect approximately 24 pieces a day until the building is standing, then they go away, taking any mess with them.
A cleaner, safer site with less moving parts, means less risk and more assurance of a smooth and successful project flow.
Flexibility of space planning
They say time is money, which it absolutely is, but when it comes to the data center, space is also money. Precast concrete allows for longer spans, creating larger open floor plans and more leeway with design.
With this kind of flexibility, Metromont has actually been able to enhance space utilization for its clients significantly. Through altering the data center design itself, in a rather genius move, the company was able to remove columns from data halls.
The Metromont difference
Competition is fierce in the precast world, but Metromont does things differently. Much like the concrete it specializes in, Metromont ensures rock solid deliverables, which are achieved through meaningful engagement with the client early on in the project.
Metromont found there was a lack of coherent, durable deal making in the industry. Deals shrouded in chaos and a severe lack of process just wasn't going to work, so, it made its own.
At Metromont, every customer interaction comes with decades of precast experience and is very different from the normal procurement path. Metromont works with your project design team from the very beginning of design development, enabling the creation of a financially and aesthetically pleasing design that meets your needs. Early involvement isn't just about design either, and typically includes:
Preparing and updating budget estimates;
Participating in constructability reviews;
Supporting value engineering options
Attending meetings with the A/E design team;
Providing assistance to the A/E design team in the form of construction details, loading concepts, product samples, and drawings from similar products;
Participating in regular communication with the A/E design team during the development of design through 100% construction documents;
Use of BIM expertise to provide 3D project models.
And this isn't just about clearing stock from a warehouse either. You might be interested to know that Metromont has zero inventory (yup, zero) so every precast piece is bespoke to your facility and your needs.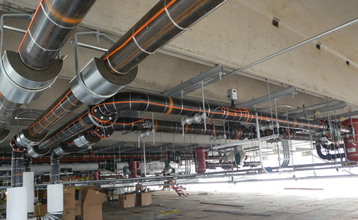 Specific solutions for data center specific problems
Taking columns out of data halls isn't the only Metromont touch unique to data centers. For example, while raised floor within these facilities is still everywhere, there's currently a trend away from it, which means operators are starting to look up, and suspend things from the ceilings.
This might sound simple, but the mechanisms to support various MEP distribution equipment, along with the ceiling grid itself, can be positively affected through use of an embedded anchor in the stems of precast double-tees.
'Double-tee stem anchors' are a nominal expression for the embedment that can be cast in the full length of every stem of every double-tee, at least for the most part, with the potential to provide significant utility and flexibility for a wide range of tenants.
And in the event some equipment and equipment distribution systems just can't be decided on at the time the precast shell wants to happen, to make life easier for MEP designers, Metromont can imagine a range of 'cut-zones', knock-out locations and 'leave-out areas' to keep things going, while not diminishing overall utility and economy.
Education for the nation
Education is the difference between everything and nothing, and something Metromont is passionate about, regularly providing it through various means. The most impactful has proven to be an 'Industry Excellence Presentation' geared to owners, contractors and designers, who are interested in benefiting from Metromont's impressive body of work − 18 million square feet's worth.
The ultimate goal is to give customers a coherent and durable pathway to the result they want, so if it's certainty of outcome you're after, don't leave anything to chance. Metromont will not only ensure you come away safe in the knowledge all is in hand, but will help educate, providing the visibility, transparency and support you never knew you needed − after all, knowledge is power.
Marshall Sorenson is vice president of business development at Shockey Precast, a Metromont company