When it comes to data centers, the scale of the facility has a massive impact on the challenges it faces.
This is frequently discussed in terms of hyperscale facilities, and it could be easy to assume that the smaller scale of data centers at the Edge would, in turn, reduce the challenges faced. In reality, the challenges are incomparable, and of an entirely different form.
During our Building the Edge virtual event, we hosted a panel to answer the questions around the challenges Edge computing poses to the network.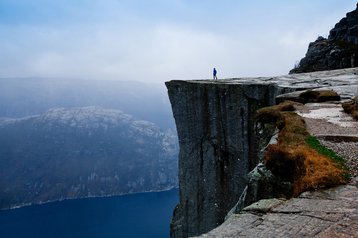 "We like to think of ourselves, the humans, as the consumers and the generators of data. But that's not really the reality, it's machine-to-machine communication that's really driving this at an exponential rate."
Alastair Waite, the Hyperscale & Cloud Solutions Architect for CommScope kicked off the discussion.
"The network is having to adopt and adapt to be able to manage these huge pools of data that are now being pushed around the network. Whereas before, we saw more data being generated centrally in large data centers, now we're seeing those resources being pushed out closer to consumers and devices."
So, as data centers are moving closer to the Edge into smaller facilities, the way the network has to function is suddenly very different.
Yuval Bachar, Innovator, Leader, evangelist for Data Center & Networking Technologies at ECL took us through a case study looking at LinkedIn's transition to utilizing facilities at the Edge.
"One of the early Edge applications that we created was at LinkedIn about five and a half years ago. We wanted to improve the experience of the end-users: when they open the app on their phone, how quickly they can get back to the updated page with all the information that they need.
"LinkedIn has a limited global footprint, and as a result, some of the users had a great experience of extremely fast load, but in some domains, specifically in areas of Europe and the Asia Pacific, the experience was not sufficient.
"It took a while to get the solution into place because LinkedIn is actually building pages on the fly all the time. Every time you get in, it requires a touch to the data center.
"Because of this, we decided to actually build an Edge platform. So we built micro data centers that we placed in strategic areas, which enabled faster responses than the master data center can actually provide to the end-user, and by that also enable the illusion of a low latency environment, even though the data center is much further away.
"As a result, we also were able to create much richer content, which means we're able to actually push a higher level of bandwidth into the endpoints from those units.
"This technology went through multiple iterations of innovation and creativity and eventually landed through a cloud service that enables LinkedIn to get global reach."
What must then be considered, is how these different smaller facilities can smoothly work together.
As Alastair Waite pointed out, "A centralized data center is hard enough to manage. We're seeing a war on talent at the moment. There's a finite number of people in this industry, but there's a growing thirst for data. So managing your centralized data center is pretty hard without services and providers around you.
"When you multiply that out to tens of 1,000s of sites, then it becomes really tricky. That's why I ask people to think about, the redundancy, the density, and the remote management of their infrastructure as a way to try and avoid some of those issues."
It is not only network access and workforce availability that must be considered. Caroline Puygrenier, Director of Strategy & Business Development, Connectivity, at Interxion, drew attention back to other key considerations.
"I think we all agree that number one is access to the network. There's a couple of other aspects that I know sound simple, but that we clearly need to keep in mind. Things like access to power in a lot of locations are becoming not just a premium, but very difficult because we are battling with sustainability, and also residential accommodation, increased power around smart cities, and so on.
"Another point that is linked to that, is sustainability. As Alastair said, having 1,000 data centers to tens of 1,000s of data centers, how do we ensure that we in the industry are all responsible for the sustainability that goes with Edge?"
With all this said, what was ultimately agreed across the board was that it is now an expectation for 100 percent uptime, and as a result, it is paramount that a solution to these problems is found. The public always assumes the network is there, and many critical applications may be resting upon it.
The network must adapt to these demands and support the growing number of facilities.
Download the episode to learn more about how the network can enable rapid edge adoption