The "sixth industrial revolution", power by factory-based IoT devices, will need networks capable of real-time millisecond communications – and that revolution has already begun, according to Viavi CTO Sameh Yamany. However, current off-the-shelf networking technology can't yet keep up.
"An airline manufacturer I know, at one of their sites they have more than 2.5 million sensors and IoT devices communicating with each other within milliseconds. There is no Wi-Fi network in the world that can match that. So they built [their own] private wireless network [so that the] sensors and antennas could communicated in real time," Yamany told DCD CEO George Rockett in a recent DCD>Talks industry interview.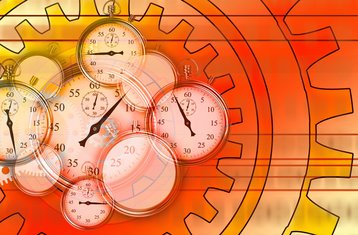 He added that at the heart of the network was "intelligent software in the data center coordinating these 2.5 million sensors and IoT devices… some of them may require maintenance, so you have to predict the maintenance even before the device has stopped working because they could not afford to have the network stop for one second."
It's not just high-tech manufacturing that needs better local networking to support a world of sensors and IoT devices. "Ports are becoming really modernised," said Yamany. "When a ship comes into port, all the sensors inside the containers can report temperature, humidity [providing] a digital manifest. All of that can now be communicated to an edge data center with all the sensors working together."
As a result, information such as temperature or moisture levels within containers can be checked against the bill of lading and if they fall outside an acceptable window for the good that the container is transporting the port can be alerted accordingly.
This, believes Yamany, elevates networks to a level of critical importance to modern infrastructure and manufacturing, but too often those networks are neither reliable enough, nor consistent enough – partly because of the way in which they have been installed.
"You deploy a data center and you have technicians coming in connecting the fibers, checking the fiber works, connecting the racks.
"You have a standard work environment that you can test, verify and then deploy. But with the complexity today, not only does the technician need to know about fiber, he or she has to know about the fiber, Ethernet, radio access – it's become more and more complex, and you can't be sending five or six people just to deploy the network," said Yamany.
"So what we are doing is automating these processes… you come in, you have this intelligent device that will detect in real-time that you have several layers that need to be verified and able to communicate with a back end, since they're also a cloud system, too."
The resulting commissioned network also needs to be thoroughly tested for performance and reliability, added Yamany, which is a step that is all too often overlooked on grounds of cost today, and the desire to get networks up-and-running as quickly as possible – without appreciating that a lack of testing will mean that shortcomings will only be identified later, when resolving them will be even more costly.
Ultimately, said Yamany, the network of the future will be both autonomous and self-healing, with diagnostics and testing done – if it is every necessary – at the touch of a button.
Sameh Yamany's DCD>Talks interview is now available to view on demand.
More...
Surprisingly, perhaps, the root causes of many network problems point towards errors during installation

Download the latest whitepaper from Viavi