Not every data center needs a ground-up solution. With an increasing number of companies needing large-scale data provision, a bespoke design isn't always the right value proposition.
PowerHouse Data Centers offer the alternative – a fully built, provisioned, ready-to-go powered shell ready for you to move equipment into, secure in the knowledge that all the buildings, environs, power generation, and other facilities are of the same quality as if you'd designed them yourself.
As PowerHouse celebrates its accession to the Infrastructure Masons (iMasons) Climate Accord, Data Center Dynamics takes time out with Luke Kipfer, PowerHouse's vice president of Data Center Development and Construction, to explore how it creates facilities that meet the needs of the modern data center, and more importantly, meets the aggressive sustainability goals that being a member of iMasons brings. But first, Kipfer gives us an introduction to PowerHouse:
"PowerHouse is the technical real estate division of American Real Estate Partners (AREP). AREP, has been a real estate developer for over 20 years, doing over $5 billion in acquisitions, covering 20 million square feet – so they have a lot of experience as a real estate developer, originally, mainly in the corporate office space. In the past few years, AREP has made some acquisitions in Northern Virginia, around technology based real estate data center properties, so they decided to spin off PowerHouse Data Centers as our pure data center brand and a division in its own right."
All options in one place
So what can PowerHouse do for businesses looking for a data center?
"PowerHouse delivers powered shells and full turnkey data center deployments. PowerHouse handles the site selection, we find the best data center land parcels out there, we handle the acquisition of the site, we do the utility coordination. We've worked with local utilities to get power, water, fiber to the site, we do all the entitlements, all the zoning, we do the site development. For the powered shell alone, we build the physical building, and for full turnkeys, we build the physical building and all the related data center infrastructure."
If you're thinking that this sounds like "white label" data center construction, don't be fooled. As Kipfer explains, this is no "one size fits all" approach – but rather one of "all options in one place" – which requires more thought, more planning and an innate understanding of the technologies of both the present and the future.
"Our role involves making sure that our projects are flexible enough to incorporate different types of technologies, while a lot of the major infrastructure decisions are made by the end user. That means making sure we've got flexibility to be able to incorporate new technologies. Data centers of 20 years ago weren't as adaptable as they are today, so we make sure we understand the technologies out there, and make sure they're able to work within the buildings and sites that we're developing."
But are there really that many opportunities for sustainability in construction – what about recycling materials? Is that on the radar? The short answer is a hearty 'yes'.
"Recycled steel is what I would call a low hanging fruit, it's one of the most widely recycled materials on the planet. Recycled concrete hasn't been around as long, yet concrete is responsible for 50 to 85 percent of embodied carbon in any building project. You can start with what fuel is being used to mix the concrete. Then there's the mix itself, using the right kind of low carbon blends. Choosing concrete vendors and suppliers that are close to the jobsite, versus trucking it in from across the state – changes like that have a very measurable impact throughout a large scale project."
The data center has changed
One of the biggest challenges for any data center design is providing the huge amount of power required to keep the lights on. That usually means a dedicated substation or microgrid. Kipfer explains that while this is one of the attractions to the sector, it's also one of the biggest challenges:
"One of the aspects that has always attracted me to data centers is it's such a dynamic, fast moving industry. It's almost a totally different industry to five years ago, certainly than 10 or 15 years ago. One of the unique advantages is we're able to move and adapt so quickly, but even though we're adapting so quickly, the amount of compute power needed on a worldwide basis has been exponential and that requires more space and more power."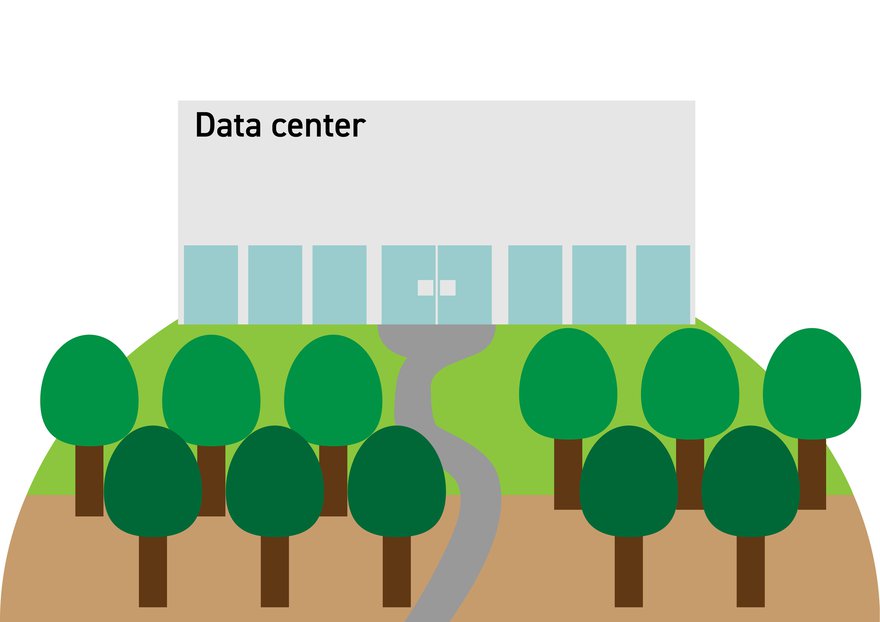 So what's the solution? PowerHouse's sustainability ethos involves working with utility companies to look holistically at the entire site under consideration, not just the land earmarked for the buildings themselves, to ensure that the decisions on power provision are in the best interests of all parties – but moreover, of the environment and local communities.
"Utility companies, perhaps understandably, have tunnel vision – they understand what their needs are, and they build the most efficient substation site and location for the utility. As we buy big plots of land and sites, we're able to see the big picture. Not just that utility coordination, but where there's wetlands, old growth trees, potential proximity to neighbors, and so on. Then we fit these substations where it's best for the project and the community as a whole."
Baked-in sustainability
As experts in the entire construction process, PowerHouse looks at every aspect of the design and build process, creating the most sustainable, environmentally sound practices, from the blueprints to the actions of the labor force – everything is thought through and the ethos passed down to every last stakeholder.
"When we first come in, we put a proposal out with sustainability baked in, and we interview potential contractors with sustainability as part of that interview process. We audit contractor plans all the way down to the very lowest tier subcontractor level, whether it's through toolbox talks, postage or signage on site, making sure the superintendents and forepersons understand those priorities that we evaluate – water conservation, reducing trips to the site, using local subcontractors and making sure that kind of culture is just embedded at every step."
It's this attention to fine detail that has seen PowerHouse become a member of the iMasons, an organization representing organizations involved in construction for the digital age. iMasons companies work together to create common standards and common infrastructure, with a Climate Accord agreeing standards and best practices for the challenges of sustainable construction. Kipfer explains why iMasons is about strength in numbers, enabled by shared best practices and high standards:
"iMasons is a professional association built around four main pillars: education, diversity, inclusion, innovation. Sustainability was always kind of a core feature of what iMasons was trying to achieve and in the organization, or in the industry, the focus is carbon reduction and digital infrastructure. It's getting the industry aligned with common methodology on how it needs to be reported, and how we can all do better.
The group also works as a knowledge base – a way to stop endlessly reinventing the wheel.
"Ultimately, we're all trying to solve the same problems, so it really hampers project progress when we're all in these separate silos. Being able to collaborate, we're more than the sum of each of us. One issue that I have, someone else might have solved six months ago, and I might have an answer from my site that someone else needs. That back and forth compounds and helps to accelerate the impact, so we're not stuck in these design loops that may take us six months to get through when someone's already solved that problem."
Sharing good practice, sharing knowledge
But what sort of problems are these? Kipfer suggests that common methodology and common metrics for measuring success are at the heart of the collaborative process.
"The biggest one is really getting that common methodology for the carbon accounting – it's getting everyone together to say, as an industry, when we build a data center, these are the metrics for carbon accounting. They have already proposed some great ideas, not just from our side, but all the way down the equipment supply chain."
So to sum up – shared knowledge, shared problem solving, common goals, common targets, are the goals for Powerhouse, and all the signatories of the iMasons climate accord.
"It's hard to show that, as an industry, we're making progress or making reductions if we're not tracking it, right? If we don't know what's there to start, we don't have a good benchmark to show that we're doing better. So being able to manage that and being able to monitor it throughout the entire lifecycle of a project is critical to be able to track that our efforts are making a difference. And we are getting better at this."
And finally – we've talked about it a lot – but what does "sustainability" mean to PowerHouse?
"We have to meet the growth of the industry and do that in the most responsible manner possible, while still being able to deliver a feasible product to the marketplace. Oftentimes, we don't really take the time to sit down and define a lot of exactly what sustainability means. I did a little soul searching, did a little research and the one definition I found that I think most aligns with how I view sustainability, is meeting the needs of the present without sacrificing the ability of future generations to meet their needs."
More from PowerHouse Data Centers
How to become a data center disruptor in markets that have run out of available space

Company names JV with Harrison Street, details three sites in Sterling, Ashburn, and Arcola