Every company likes to believe that it thinks outside the box – but few can claim to have embraced new approaches in the same way as HiRef, an Italian air-conditioning specialist, brimming with new ways to innovate in problem-solving, and recruiting new talent to the industry, thanks to a series of pioneering collaborations.
DataCenter Dynamics spoke to Wolfgang Fels, commercial director, and Jaap-Jan Pethke, commercial manager for International Data Centers about their history, their future, and how in an aging industry they can boast an average employee age of 38 – all with a baked-in ethos of sustainability and innovation.
To start, Fels gives us an introduction to the business, which has seen huge growth since it launched in the wake of the tech crunch at the turn of the 21st century:
"The company was founded in 2001, just as the first big internet crisis was hitting the industry. Telecommunication and data centers were becoming critical infrastructures. So we started with the idea that we are already at the bottom line – so the only way is upwards. Now, we are almost 22 years old. Within just five years, we had outgrown our original facilities. Today we are in dual premises of 8,000 plus 4,000 square meters, and we are about to open our next facility in 2024, giving us an additional 6,500 square meters of production space."
One of the biggest changes that HiRef spearheaded was the introduction of units that use higher water temperatures, yet consume less power. Whilst this is prevalent today, at the time it was an idea spawned by a challenge set by a potential customer, a common way of working for HiRef:
"We develop solutions together with consultants and customers. For one project we developed a CRAH unit where we achieved a COP (Coefficient of Performance) of 100 – so, one kilowatt of power consumption created 100 kilowatts of cooling capacity. That was done as proof-of-concept and was only possible through collaboration with a consultant and customer who said 'I want to have something more energy efficient than everything on the market'".
By using higher water temperatures, the operating window for free cooling is enlarged, leading to more efficient cooling and potentially effective capture of waste heat. Pethke adds context to the seismic change this brought to the market:
"Keep in mind that when we started, water temperatures were about 7/12 degrees. Back in 2005, we had discussions with consultants and told them 'Okay we can elevate water temperatures up to 10/18°C. Today, we provide 200 kW of cooling capacity with a fence power consumption of approximately 5 kW, using a water temperature of 20/32°C. If you compare power consumption on a graph against the amount of cooling capacity it provides, the growth we've been able to harness has been incredible."
Efficient cooling is part of the industry-wide rush for sustainability that has dominated recent years. But for HiRef, environmental responsibility has been at the heart of the business from day one. Fels explains why it's so important:
"For us, sustainability was always a leading aspect in the development of our units. When we were setting up the business, it was already clear that energy was becoming a valuable resource that we needed to protect. We need to look to the future of our children. They are the next generation to enter the business world and we will need to make sure that they have a world at least as good as ours, if not better. At the moment, it seems like the opposite way around – but it was, for us, always our aim."
He goes on to talk about some of the innovations that HiRef has brought that have sustainability at the heart:
"We developed classical units with free cooling. In 2006, we developed our first chiller with ammonia. At that time, there was no discussion about F-Gas, but even then, we couldn't see a future where everything is run with traditional refrigerants. Now we're focusing on CO2 as a pumped refrigerant. From the start, we offered CRAC units with Electronically Commutated (Brushless EC) fans as a standard. At that time, nobody else was talking about sustainability, but it has been a red line throughout our development."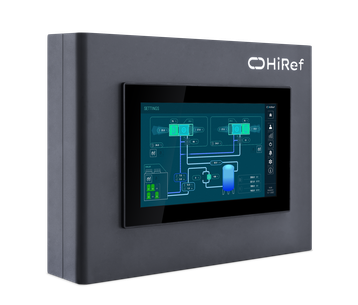 One of the most important aspects of running an efficient data center is visibility, coupled with granular control. We ask what HiRef is doing to ensure that data center managers have both. Pethke tells us about HiNode, the company's smart control system, capable of controlling and reporting on all aspects of its cooling systems:
"It's our main software program to control not only CRAH units, but also pump stations, chillers, and dry coolers – everything. This gives an additional advantage because you can also automatically adjust parameters by the meter. In reality, a data center designed for 100 percent functionality may well only be running at 70-80 percent and may have launched at just five percent. Why should you run with a fixed water temperature, if you're only employing 40 percent of your capacity? HiNode provides full visibility in our software, while your strategy is being handled by the equipment.
But what happens if you have a live data center that predates all this innovation? HiRef can help here too. Fels explains:
"We are currently working with a client who is refurbishing an existing site, with CRAH units approaching end-of-life. The customer examined the different temperatures as part of a power densification program that they have rolled out across their existing data centers. Planning this kind of operation is challenging – you can't interrupt existing units in their operating state to install new ones, so we developed a CRAH unit that runs at traditional temperatures, but on completion, the water temperature can be raised from 10/15°C to 20/32°C. With our design that means a simple switch to the second set point – then you'll have a sustainable data center, operating at values normally expected in a modern environment."
One of the sources of HiRef's continuous cycle of invention comes from its close ties with the University of Padova, whose students are an instrumental part of the design, research, and development cycles, while simultaneously offering the business a constant flow of young employees who go on to make the next generation of product innovators. Pethke tells us more about this pioneering program:
"The people working here come straight from university to develop their skills, while still based on campus. Some even do their thesis here. If they're really good – and they generally are – we ask them to stay. But what's important is that you allow people to grow, and you give them responsibility, quickly, and you create an environment where there are no borders, and you allow people to do their thing."
But, we wonder, does it not present risks, using so many untried ideas in a live environment? HiRef sees things from a different perspective.
"Even sometimes, when you know something is not going to work, you let them run with it, just to allow them the experience. When I was young, people would tell me, 'Oh, you shouldn't do that because it's not going to work'. I always wanted to do exactly that, because I wanted to see for myself. A mistake is not a bad thing – as long as we do not make the same mistakes twice."
"We will never look for the guilty person, rather than a solution" adds Fels, "Just because we know from our own experience, everybody makes mistakes. It's normal. You need to learn about it."
He goes on to explain more about how the scheme works:
"We've been continuously collaborating since 2002 with the University of Padova, which is 'the' university for thermodynamics in Italy. Students join to work and develop their skills – and afterward, 60 or 70 percent stay with us. That's why we have up to four theses per year being done in recent years by students who are then integrated into our R&D department. When they finish university, they know the people, they know the environment – it's dynamic, driving, challenging – but they begin their working life placed to realize this. It's something which for us is normal."
In an industry that is constantly aware of its aging workforce, this puts HiRef in the unusual position of having an average employee age of just 38. Fels and Pethke joke that it would be even lower if they weren't pushing up that average.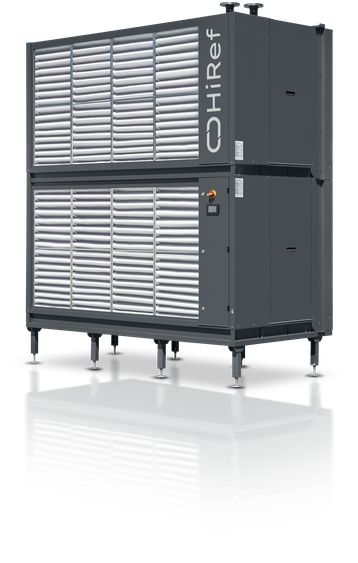 "We always wonder why so few companies use this kind of opportunity. It gives extraordinary input on the technical side that lets us see the latest development views, technology, etc. The other insight for the university is the chance to get people directly on the field, rather than rely on classroom theory – it connects real projects – real needs from the outside world."
Pethke adds, "We're not afraid to give responsibility to young people. So for example, when the previous product manager for chillers left, he was replaced by a young lady. She was 27 years old. If you look at comparing companies, the average age for this function would be 45 or 50. That's another advantage – we can introduce more women to the industry, something it badly needs."
The links HiRef has formed have created an ecosystem of talent in its native Italy. We finish by asking how this gives them a competitive advantage on the world stage. Fels tells us:
"Our academic links mean we're always on top of technology which is emerging, and working with one university opens us to working with other universities across Europe because they're all linked. For example, we were participating in a geothermal heat pump project, and this work was divided and shared between Universities in Denmark, Norway, Greece, Spain, and of course, Italy. That gives us additional insight into what is going on in different markets. So, we know that Sweden and Norway have different approaches to environmental protection. These kinds of mentalities, put together are something which is very, very attractive for us."
There's a lot that the industry can learn from companies like HiRef. The spirit of research and innovation, focus on sustainability, and a unique approach to refreshing both their talent and knowledge base have proven invaluable in watching the business flourish. Now, with the challenge of climate change facing everyone, HiRef has positioned itself ahead of the curve and is prepared to face the coming decades, brimming with fresh ideas to make world-class cooling products that are cleaner, greener, and more power efficient.

To find out more please visit the HiRef website here.