Connectivity. It is somewhat undeniably a buzzword. But, like all buzzwords or cliches, it comes from genuine beginnings.
For NTT, connectivity is a business philosophy. As explained to us by Konstantin Hartmann, vice president of sales and commercial at NTT, the company prides itself on the connectivity of services the company provides.
"I think there are two key points that make us different from others in the market," said Hartmann. "We, as NTT, are not only a data center operator, but we are actually an ICT company, which means that we can provide our customers with solutions outside of colocation. I'm talking about many services: cloud solutions, and network solutions as we are network providers as well."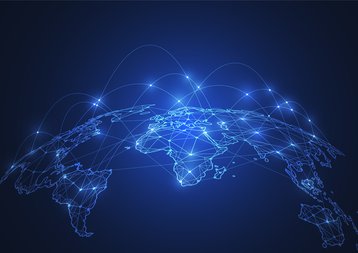 It is not only the service offered by NTT, but because so many different data center providers have become part of the NTT family, the company has a deep connection with many different localities and understands their needs. As Hartmann said: "That local knowledge is really valuable in order to understand how to fit our data centers best into our communities."
It is this, perhaps, that has driven the company's goal of creating a connected planet, community, and economy.
It is not, perhaps, immediately obvious what is meant by this or why NTT sees this as intrinsic to sustainability goals. At our recent DCD>Connect event in London, we were able to discuss the concept in more detail with Hartmann.
"The basis of everything regarding sustainability with NTT is that we believe only a connected planet is a sustainable planet. We want to connect the world and that's why we identified, within the NTT family, three sustainability ambitions," explained Hartmann.
"The first of these is the global planet ambition, which pretty much relates to net zero emissions that we want to target throughout the whole value chain of the services that we're providing to our customers. That's where we, as data center operators, have the biggest impact.
"The second element is the connected economy. What we mean by this is we really want to provide secure digital solutions to the world, in order for our clients and for communities to overcome environmental problems.
"The third element is actually the connected community. We are a huge network provider, providing networks and access to digital solutions around the globe. So everybody in the world can actually participate and use that network, use the solutions to overcome common economic problems there. So in summary, connected economy, and connected community, we want to have more digital, and more connectivity solutions that we can provide."
Part of this, particularly considering the first sustainability element, comes through reducing carbon emissions – be it finding more sustainable energy sources or improving the efficiency of cooling systems.
"When speaking about data center developers and operators like we are, we should talk about scope two emissions first of all. Because those encompass scopes one and two, which both relate to power procurement and power consumption. In our world, more than two-thirds of our emissions are related to power and the power that we're consuming for non-IT, but also for the IT rooms within our data centers.
"The first question is, how can we get that power cleaner over time? If you look at our data centers in the EMEA region, already about 70 percent of our power is coming from renewable power sources or at least have a renewable energy certificate. That is, of course not ideal. We want to get to 100 percent of renewable energy by 2030, but we aren't on track."
A big part of this is linked to the current pressures on the grid, which has had a dramatic impact on the data center industry. Where companies were taking big steps towards more renewable energy sources, they have been forced to rely again on diesel power to maintain the resiliency that is necessary.
This is, however, a temporary setback, one that we can overcome by investing in the right areas and making choices based on longevity, not for immediate gratification.
Find out what NTT sees in the future for the data center industry as they pursue the connected planet, economy, and community in the DCD>Talk.
More from NTT Global Data Centers