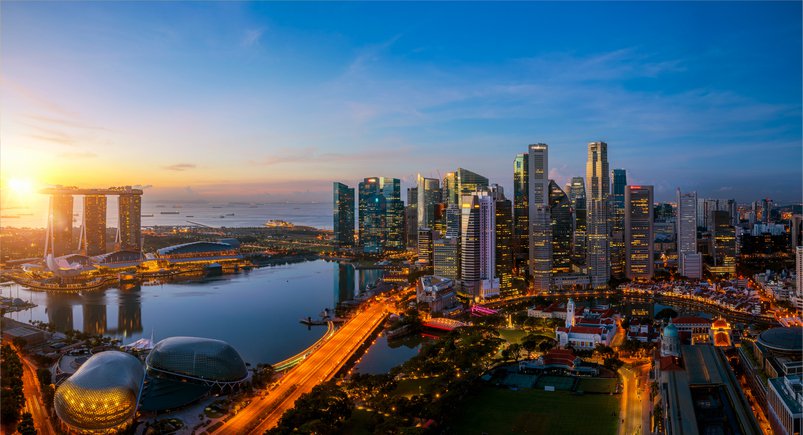 From continent to continent, the data center industry sits in a different developmental stage, with full saturation in North America to a near lack of presence in Antarctica (there is one small data center at the south pole, called the Ice Cube Neutrino Observatory).
Because of this diversity, it is particularly interesting to discuss the continental landscapes, an opportunity we had during a DCD>Talk with Chris Street, Executive Vice President of Market Development at Princeton Digital Group.
The company, based in Singapore, has data centers across Asia.
"At Princeton, we're expanding across Asia. We're based here in Singapore, and we entered the market here in Singapore through an acquisition in Indonesia. We've got six sites across Indonesia. We've got a presence in India, we announced a site earlier this year in Mumbai, and we have multiple sites throughout China."
This migratory process is in direct response to demand and is what is driving so much investment in the region.
"The money coming out of Singapore in terms of the funds, whether it's sovereign wealth or private equity funds, there's a lot of capital out there today looking at data centers. They're starting to look at it as an asset class, through the lens of traditional real estate investment, but they understand that it's quite different from other asset classes, because it's so unique from an operational perspective.
"To put it in context, in 2016, everybody said that Singapore was oversupplied. At that point in time, we were launching for STT. We were building two data centers in parallel and sold them both out within the first two years. I wish I had had four buildings.
"Then you fast forward to now, and the data centers and campuses that we're building, both us and others in the market. There's a significant amount of capacity coming in. For example, Jakarta right now is an example of this.
"It's starting from a base of 70 megawatts of critical load and legacy, and has been that way for five to 10 years. Now, there's a pipeline of approximately 200 megawatts and an additional 120 plus on top of it that's going to be delivered in the next 24 to 36 months. You've also got an incredible amount of population, demographics that are completely underserved, and they are digital-first, from a consumer situation."
Not only are new facilities in construction, but there is also a clear trend for traditional enterprise data centers to relocate.
"The move of enterprises has a much higher propensity to outsource to colocation in general. In a lot of these markets, enterprises have traditionally had their own in-house facilities, and now they're making the decision to take these applications to the cloud or to colo. Previously, they didn't have a colo option, because there wasn't the capacity there, so now they're taking them to colo because that capacity exists."
Ultimately, Street puts down the rise in demand to the simplicity of logistics: a lot of people, not enough infrastructure.
"The older, captive enterprise data centers that don't fit the profile for the technology anymore are being offloaded, and we're filling the gap. But others are coming into the market. From a regional perspective, Asia Pacific still has a long runway of growth because there's just so much underserved demand.
"There's also the underlying growth of the entire region. If you look at it in the macro, out of seven-point-something billion people, if you draw a circle and include India, China, Southeast Asia, Tokyo, and Sydney, it's four billion of them in this world, while the infrastructure compared to the other half of the world is underdeveloped."
As a result, we can ignore baseless anxieties of 'over supply' for the time being. Demand in Asia will continue to grow until the massive population is fully supported compute-wise.
Watch the full episode to learn more about the APAC data center industry landscape.
More from Princeton Digital
Why data center optimization via automation and standardized business processes is now a key differentiator for PDG

Greater Tokyo is a new market for the growing builder-operator

New data center will expand existing campus to 35MW.