The size of China's digital economy had increased by more than five times over the last decade and reached 29.9 trillion RMB (US$4.2 trillion) in 2018. This makes the digital economy a core anchor of its overall economic growth for the country, observed Liu Yuan, a senior director at IDC Quan, a Chinese tech consultancy.
Liu was speaking at the "IDC Enabled Digital Transformation of Puyang with 5G and AI Technology Summit" held last month. Hosted by the city of Puyang in Henan province, China and organized by DCD, the summit was attended by almost 400 participants and looked at how digital transformation (DX) can serve to boost and develop the economy, as well as the data center's role in it.
Enabling DX through data
According to Shi Kai, the head of data and AI and a principal consultant at software consultancy firm ThoughtWorks, the value of information is fast surpassing that of data. Data-driven intelligent transformation hence plays a vital role when it comes to business competitiveness.
Crucially, businesses need data to drive alternate experiences. This shows how organizations are moving away from making plans based on static reports, to using real-time data in decision making, he notes.
Shi shared the case study of a manufacturing firm in which an optimized data model enhanced capacity by 18 percent and increased the accuracy of product delivery estimates by 28 percent. In another case study, he also noted how the control platform for a wind farm increased its efficiency by four times.
In today's uncertain economic climate, Shi advocated a "lean data" approach that can help traditional businesses to successfully execute digital transformation by determining their digital transformation path through a methodical approach.
So how is his data-centric DX strategy related to the data center? In a slide he shared, Shi explained that both data management and the data center form the foundation of data intelligence delivery, which is vital to enabling capabilities such as machine learning and smart services.
Rising digital sector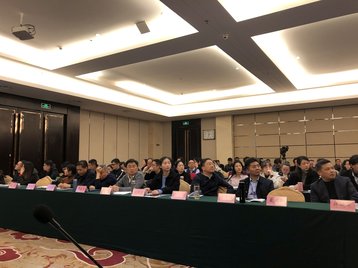 The rapid growth in the digital sector in China is evident, says Wen Xin-Chao, a vice president at engineering services firm Yimikang Tech Group. By 2023, more than 500 million digital applications and services will be used in the cloud, he says, noting that this is equivalent to the sum of all software applications developed in the past 40 years.
As enterprises reinvent themselves to take advantage of these apps, there will be a change in how IT infrastructure will be deployed. According to Wen, 70 percent of enterprises expected to adopt hybrid and multi-cloud deployments by 2022, while edge data centers – not on-premises deployment – will make up half of new infrastructure being rolled out. Edge applications will also grow by 800 percent by 2024, he said.
The China data center market has also experienced extremely high growth, thanks to strong support policies from the government and significant data growth. Currently, the data center market is growing at an average compound growth rate of 37.6 percent and generates close to 190 billion RMB (US$26.9 billion), says Wen.
Data centers in China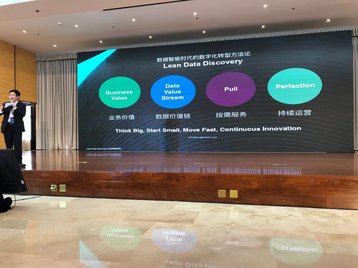 But what about the impact of new data centers on the environment in a country already grappling with severe air pollution that at least one study says is killing 1.1 million people through premature deaths each year?
The unfortunate reality is that while China is at the striving hard to develop renewable energy, most data centers draw energy from the grid which is based on fossil fuel – with coal making up the lion's share at 73 percent. Unsurprisingly, Greenpeace research found that China's data center industry was responsible for 99 million tonnes (109m US tons) of CO2 emissions in 2018.
It is likely due to concerns over pollution that the Shanghai municipal authorities earlier this year issued a three-year action plan that limits the PUE of new data centers to 1.3. Wen drew attention to this, as well as Beijing's outright ban on the construction of new data centers with a PUE of 1.5 or higher in 2015. In that vein, it is reasonable to imagine similar caps on PUE being applied to more cities in China over time.
Yet bringing this down across the board will be a mammoth challenge. To illustrate the difficulty, Wen juxtaposed the PUE of a typical data center with a PUE of 2.0 against a hypothetical one with a PUE of 1.6. The only way to make bring down the PUE entails almost doubling the efficiency of the chillers (and halving its contribution), while simultaneously bringing down the consumption by CRAC and ancillary equipment.
The power of AI
But there is hope yet. Wen pointed to how Google uses its DeepMind AI technology to optimize the cooling in its own data centers to shave 15 percent off its PUE in 2016. He thinks that a lower PUE is a target that is attainable through the power of deep learning.
Wen cited a 10-megawatt data center in Beijing that successfully used deep learning to reduce the power consumption used for cooling by 30 percent. Together with the liberal use of free air cooling – the annual temperature in Beijing averages 12.1 °C – the facility managed to achieve an average PUE of 1.2.
"Reducing data center costs will help enterprise digital transformation," Wen summed up in his presentation.