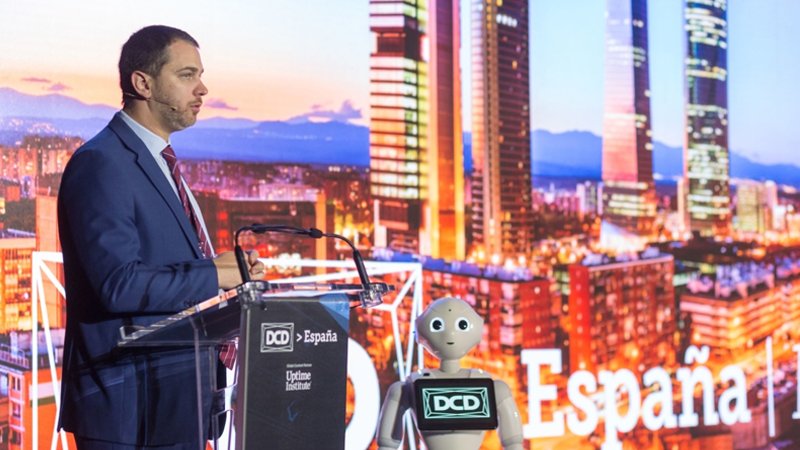 More than 1000 data center and cloud infrastructure professionals will converge on Madrid this week for the 12th annual DCD>Spain conference. The event is a key date in the calendar for Spain's digital infrastructure industry and in recent years has started to draw in an international crowd as the sector exerts an influence over digital infrastructure growth in Latin America, across Southern Europe and also in Africa.
A key talking point on this year's agenda will be how Madrid addresses this potential and whether it can become a European hub for data centers that rivals Paris, Amsterdam of Frankfurt. One the feature panel brings together the Leadership from Equinix, Data4, Global Switch and InterXion, major colocation companies that have made significant investments in Spain to discuss the challenges they face meeting increased demand and accelerated growth.
Major new connectivity routes, significant levels of infrastructure investment and a thriving digital economy are all throwing their weight behind Madrid.
Challenges and opportunities
Spain may be the leading candidate to respond to a perceived leadership void in Southern Europe's digital infrastructure scene, but that's not to say data center growth ion the Iberian Peninsula is without its challenges.
Talking to DCD, Ricardo Abad, Managing Director, Quark, a leading data center consultancy, said "data centers and communication networks, as well as the boom of submarine cables that connect cities on the Iberian Peninsula such as Bilbao, Valencia or Lisbon, and that finally converge in Madrid, make the Spanish capital attractive as a data center hub". They allow, he says, "for faster and cheaper communications with the United States (North America), Brazil (Latin America), West Coast of Africa and Algeria (North of Africa), in addition to the fiber networks that connect the rest of Europe".
Ignacio Velilla, Managing Director, Equinix in Spain, believes that Spanish companies are reaching a technological maturity that is progressively approaching that of northern Europe. He explained, "the large companies of the Spanish stock exchange are already taking their loads to the cloud, so the arrival in Madrid of hyperscale cloud providers and interconnected data center companies is a logical step. Companies are ceasing to rely on their own data centers and are betting on the advantages of interconnected centers in which, other large companies relate to each other in a secure and private manner."
The challenge remains one of attracting even more companies and investors to Madrid, rather than to the other European hubs. The arrival of companies such as DATA4, Eshelter, OVH, Equinix, and the investment and expansion of other companies such as Interxion, Global Switch or ADAM are steps in the right direction but more is needed.
There are still some obstacles that need to be tackled that could quickly give the country an advantage. First, the role played by public administrations, both national and local, who need to collaborate more in order to simplify bureaucratic processes. Also they must work jointly with the energy companies to build a more attractive business case for site selection.
One concern for analysts predicting Spanish data center growth are the high energy costs in Madrid. Another, is for data center energy consumption to be better factored into electricity network planning. There are no specific data center planning zones as yet.
So, why Madrid?
In the words of Velilla, "the first factor that is favouring the arrival of service providers in the cloud, data centers and interconnection to this city is our privileged geographical position: Madrid is the most important city in the Iberian Peninsula, a strategically located enclave between Europe and North Africa and which looks actively across the Atlantic. Our strong linguistic and cultural ties with Ibero-America make us the natural link between the European and South American markets, while more and more North American companies consider our country as an alternative way to the congested networks that unite the United States and the North. Europe."
We can not forget that Madrid is the leading city in Spain in terms of investment, and is, in the words of Robert Assink, Managing Director of InterXion Spain, "one of the main telecommunications nodes and data centers in the Iberian Peninsula. In fact, the region has two of the main neutral points, such as ESpanix and DE-CIX, and the extensions of the submarine cables that connect Europe with America and Africa arrive there." Assink explains that "in Madrid there is an area known as Silicon Valley Madrid where a large number of data centers and technology companies have spontaneously been concentrated due to the concentration of telecommunications networks and electric power in the area." It also houses large-scale manufacturing activities, colocation and cloud providers, is the center of national government and the center for financial services and insurance.
Juan Carlos Vaamonde, Country Manager, Spain, DATA4 Group, told DCD, "There are several factors that support the strength of Madrid for colocation or cloud providers. Firstly, Spain is considered part of the new wave in cloud adoption and having a physical presence in the country is one of the factors that large corporations are considering when selecting suppliers. This, in combination with increasingly restrictive regulations in terms of data protection and / or the need for low latency values, increases the need for local implementation. Secondly, we can consider our strategic position in access to emerging markets such as Latin America. Finally, we cannot forget the availability of highly skilled and competitive local staff. "
Markel Gruber, General Manager, Global Switch Spain explains, "It is true that Madrid is in a magnificent geographic situation to adopt the role of hub of southern Europe, to facilitate interconnection with Africa and LATAM, and the recent connection with Virginia from Vizcaya ensures connectivity is getting richer."
Gruber continues: "there has been a lot of work completed to get to this position, but it remains key that the public administration facilitates via tax advantages etc... key incentives that help accelerate the implementation, installation and growth. In the same way, it is necessary to facilitate and speed up the procurement procedures and availability of electricity supply in a timely manner. There are many pitfalls that we must overcome when we think about expanding and growing according to market demand".
Other important points that cannot be forgotten are the new import tax regime and the abundant availability of optical fiber and submarine cable connection, which also favours investment in the sector.
Conclusion
All the evidence points to Madrid becoming a fully fledged data center hub sometime soon, strategically positioned within striking distance of Latin America, North Africa and the rest of Southern Europe. But to speed things up and to emulate the success of places like Ireland or Sweden, Spain needs to promote the opportunity through its public agencies or should even consider creating a semi-government agency dedicated to attracting data center investment. The upside is well worth the effort.