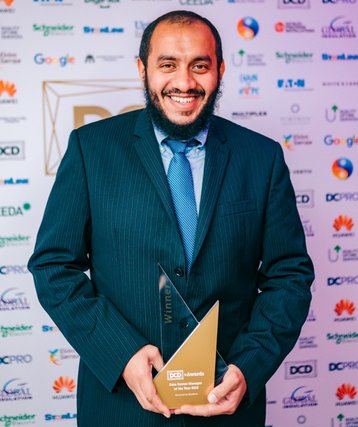 Farooq Al-Jwesm is an accomplished data center manager with over 11 years of experience in the data center industry. A qualified manager, with different technical and managerial credentials, he is an expert on data center management. He has a Master in Mechanical Engineering, as well as a Master of Business Administration and a number of other data center related certifications.
His track record of formative experience nurtures his core capabilities as an exceptional manager. His experience managing several data center's operations over the past five years has given him a wide perspective and experience leading multiple data center projects. One of the key projects he has worked on is the successful completion of one of the largest data centers in the middle east that drives the operations of the world's largest oil producer.
Farooq is set apart by his extensive involvement in the industry, a natural inventor with two granted patents and a technical board committee member, Farooq is more than capable. He is driven to mentor young individuals who he hopes will be the future of the data center industry.
Category sponsor EkkoSense provides monitoring, planning and optimization services to data center operations across the globe. EkkoSense celebrate managers who go above and beyond the regular requirements to provide superb and communicative leadership to teams.
Ingenuity and Innovation
Farooq is an analytical and conceptual thinker, solving engineering problems which is proven by his two granted patents which solved major challenges he faced in data center operations. The patents themselves provide flow distribution systems and methods. These systems are implemented for heat recovery, steam generation and inlet expansion ducts.
His inventions with implementation procedures provide new flow distribution devices, or flow correction devices that reduce pressure drops with little modification. This provides significant advantages to enhance the flow upstream of super heater tube banks. Farooq's thinking and entrepreneurial spirit are embedded in the culture of Saudi Aramco, making him a vital addition to a team that is self-driven and strives to meet business goals.
Management and Leadership
Farooq demonstrates his leadership capabilities through his mentoring of young technical professionals, and acts as an exemplary role model to young individuals in the industry. Always driven, and always aspirational, Farooq is a strong example for all members of his team.
His situational self-awareness allows a clear and calm approach in stressful situations, and is able to manage critical situations with a spirit of leadership. His ability to bring teams together and focus them on solutions to issues helps rectify any issues and failures with data center operations.
Farooq Al-Jwesm is an overall accomplished data center manager, with an exemplary track record armed with different technical and managerial expertise. His ingenuity and entrepreneurial spirit as an inventor makes him a vital addition to Saudi Aramco.
Who were the other finalists?
More from DCD>Awards 2019