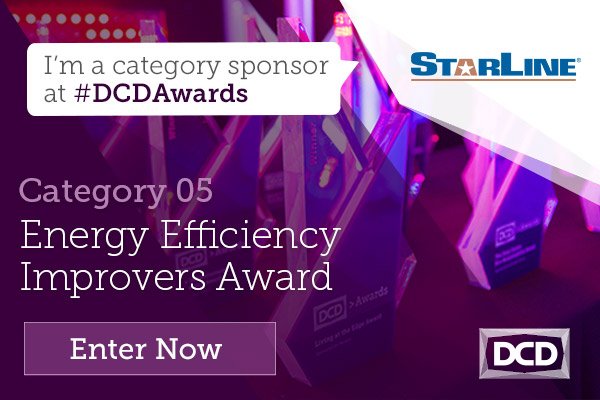 DCD's Energy Efficiency Improvers Award is now open for entries, sponsored by Starline.
This Award will be presented to an organization that demonstrates the success of any project to improve the energy efficiency of a facility or group of facilities, through measurement, bench-marking, analysis, recommendation and implementation to a verifiable outcome. The winner will be announced at a gala ceremony on the 6th December in central London.
Improving efficiency
The 2017 Energy Efficiency Improvers Award went to Teraco for a data center which achieved a low PUE in sub-tropical South Africa, where "It's been a fantast5ic challenge," said Teraco's head of data center systems Brendan Dysel, receiving the award at the 2017 ceremony. "The way manufacturers are competing is fantastic."
Sponsor Starline is looking forward to similar stories from entrants to the 2018 Award: ""Our bus bar technology delivers critical power to millions of square feet of data center space around the world, so we are proud to be part of the infrastructure that is integral to energy efficient operations for many of the world's most important operators" said a representative.
Who should enter
The Award is open for a project which
improves efficiency,
will be operational by 31st October, 2018
Vendors, consulting engineers and contractors can nominate projects on behalf of their clients and assist in the preparation of the entry, however the primary recipient of the award will be the project end-user/operator. An international panel of judges will select a shortlist and then a final winner for the 2018 Award, which will be presented at a Gala Dinner on December 6.
Previous winners of the Energy Efficiency Improvers Award include Telefonica and Morgan Stanley.
Universal Electric Corporation, the manufacturer of Starline Track Busway, has been a global leader in power distribution since 1924. The company's focus on innovation continues to pave the way for safer, flexible and reliable power distribution systems for data centers. Other Starline products include Power Monitoring, Plug-In Raceway and 380VDC Solutions.
Click here to find out about the 18 categories