Seven hundred of the data center industry's finest assembled for a gala dinner at the Park Lane Hilton in London tonight and were the first to hear the winning line up for the 15 categories of the 2016 DCD EMEA Awards, announced by actor and comedian Miles Jupp.
The awards are part of a world-wide series dedicated to recognising excellence in the design and operation of the full range of data center and cloud infrastructure that keeps the global digital economy and communications up and running.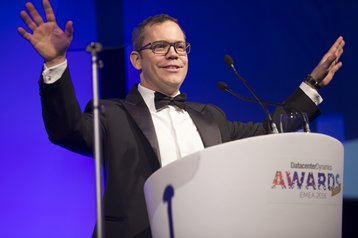 International standing
The winners this year included entries from Switzerland, Sweden, Spain, Germany, the Netherlands, Luxembourg, and the UK. New for 2016 was the Sustainable Data Center award, which went to Dutch mobile and telecommunications firm KPN scoring another success after winning the 2015 Internet Data Center EMEA award.
The prize for outstanding contribution to the data center industry was awarded to Interxion's Lex Coors, who was present to collect his deserved award in person. The other individual awards went to Paul Harris from Future Facilities as Young Mission Critical Engineer of the Year and Malcolm Howe, who swept up the prize for Business Leader of the Year.
Representing the charity Sparks was racing driver and television presenter Tiff Needel, who saw the total amount raised for the charity over the years at the event surge through the £200,000 mark.
2017 seems set for even greater change in the industry buffeted by ever greater capacity demands and the present and growing cyber threat. But for now, take a moment to look through this year's winners in full below and if you know them, drop them a line in congratulation!
Category WinnerCompanyCountryCategory Sponsor
1. Enterprise Data Center
Management & Technology Team Delivers Application and Infrastructure Services
Surrey County Council
UK
Digiplex
2. Internet Data Center
Ericsson Iberia Cloud Data Center
Ericsson
Spain
Future-Tech
3. Service Provider Data Center
LuxConnect, The Unique Multi-Tier Data Centre
LuxConnect
Luxembourg
DCPro
4. Sustainable Data Center
Datacenter U.S.E. Program
KPN N.V
Netherlands
Arup
5. Public Services Digital Delivery
The MET Police Data Centre Transformation Project in Collaboration with Keysource
Metropolitan Police Service
UK
DencoHappel
6. Modular Deployment
Lamda Helix River-Powered Containerised Data Center
Lamda hellix
Greece
AECom
7. Data Center Critical Environment Team of the Year
CenturyLink M&O Certification for EMEA Data Centres
CenturyLink
UK
Schneider Electric
8. Critical Environment Future Thinking Award
Concert Control Project
DigiPlex
Sweden
CBRE
9. Energy Efficiency Improver's Award
ArCTIC (Adsorption Chiller Technology for IT Cooling)
Leibniz Supercomputing Centre(LRZ)
Germany
Starline
10. Data Center Transformation Project of The Year
Ericsson Iberia Cloud Data Center Migration
Ericsson
Spain
AirSys
11. "Open" Data Center Project
Public procurement of OCP at CERN
CERN
Switzerland
Anixter
12. Cloud Journey of the Year
SDL's Machine Translation to the Cloud
SDL
UK
Huawei
13. Young Mission Critical Engineer of the Year
Paul Harrison
Future Facilities
UK
Kao Data
14. Business Leader of the Year
Malcolm Howe, Mechanical Design Engineer
Cundall
UK
Mercury
15. Outstanding Contribution to the Data Center Industry
Lex Coors, Chief Data Center Technology and Engineering Officer
Interxion
UK
Rittal