Why sustainable site selection is pivotal to operational reliability
This session took place on April 2, 2020
Please complete the following form to access the full presentation.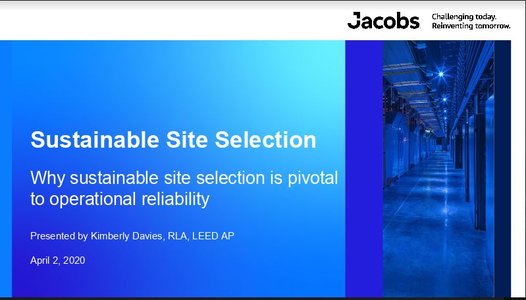 Why sustainable site selection is pivotal to operational reliability
Site selection for data centers is critical to meeting demand, but also has a major impact on start-up and operating costs. Further, the small decisions made at site selection stage, and vetted at due diligence stage, can have an order of magnitude impact in later stages for reliability of mission critical operations. A proactive approach to sustainable site selection can prioritize issues like renewable energy sources, water reliability, and air quality, to reduce costs through a project life-cycle.
Attend this talk to learn about opportunity mapping, part of an approach that utilizes data visualization tools designed to dynamically analyze multiple parameters and visualize them in a format that is at once powerful and accessible to the spectrum of key decision makers. This which allows you to save time on due diligence by putting an early emphasis on less tangible factors that are harder to understand if trying to quantify at later stages, such as resource reliability and climate resiliency and emissions strategies.
Brought to You by