Europe
Watch sessions on-demand
The virtual conference for the European data center industry
Tech showcase: Servers and connectivity
This session took place on November 12, 2020
Please complete the following form to access the full presentation.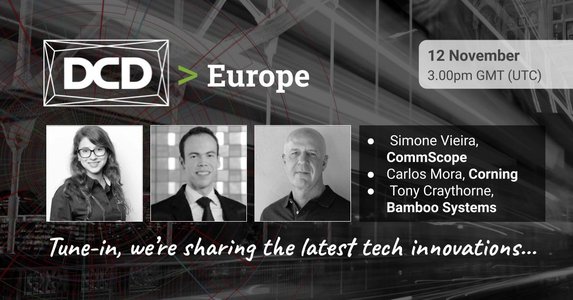 Tech showcase: Servers and connectivity
3:00pm - CommScope: Simplifying and Managing High Density Fibre Environments
In Data Centres, headends and central offices, demand for bandwidth is growing exponentially. The need to install, access, reconfigure and reroute connections is constant. As the physical layer evolves, termination, splicing, patching and storage requirements surpass the capabilities of standard rack and shelf offerings. Network managers need a better solution, one that supports rapid deployment, plug-and-play connectivity and high density—all while maximizing the usable density and long-term value of the fibre network. The Rollable Ribbon and optical distribution frame (ODF) solutions from CommScope is a compact, fully front-accessible solution that maximizes usable density and supports the continued growth of your fibre infrastructure.

3:20pm - Bamboo Systems: Why Arm-based Servers are the Future and How 40-year Old x86 Architecture Can't Keep Up
Server architecture is overdue for a complete overhaul from legacy 40-year-old x86 designs. To support software design such as the use of containers, and workloads such as AI and Edge Computing, high throughput computing is critical. On top of this, data centers are accounting for more and more of the world's energy consumption to the point of complete unsustainability. Bamboo's revolutionary servers built from the ground up using Arm technology, delivers the throughput required, while reducing space and power consumption by up to 80%.
3:40pm - Corning: Corning's 2020 solutions and innovations to future-proof your data center
This presentation will provide an overview on the most recent innovations and solutions Corning has launched to support data centre operators in preparing their infrastructure for future needs with respect. Enterprise, colocation and hyperscalers will need to invest in the right infrastructures today to support density, speed to revenue and most of all a seamless migration to new technologies and access to higher data rates.
Brought to You by