Tech showcase: Liquid cooling
This session took place on July 14, 2021
Please complete the following form to access the full presentation.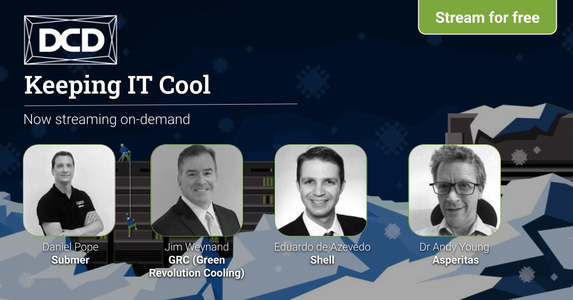 Tech showcase: Liquid cooling
Green Revolution Cooling - Making the leap into immersion. How enterprises are implementing immersion cooling into their infrastructure aka "How to eat the elephant one bite at a time"
GRC CRO Jim Weynand presents the benefits of Immersion Cooling for data centers and discusses how enterprise clients have successfully transitioned from air to immersion cooling.
Aperitas | Shell - Immersion cooling knowhow: what immersion can do for you and how we make it work
Immersion cooling is a primary method for cooling IT in datacentres and at the Edge offering a range of benefits including resilience, by reducing failure domain due to a lack of pumps, as well as zero load on air chillers, water consumption, and maximum heat recovery potential for efficient operation and overall CO2 reduction.

Like all great technologies immersion cooling needs to be applied with knowledge and expertise, which is abundant in the partnership of Asperitas and Shell, enabling efficient and effective cooling for any server configuration. This presentation illustrates how Asperitas and Shell have developed a streamlined certification working together with OEM and integration partners to deliver high performance turnkey immersion cooling solutions.
Submer - High-powered Datacenters, Why does the MegaPod make sense?
Take a look inside Submer's NEWEST immersion cooling technology specifically built for high-powered, harsh environments . In this showcase we will give a live demo of our MegaPod solution, how it works and its benefit to the industry, and how the use of this technology can help to increase efficiency and reduce a company's overall impact on the environment and future proof your datacenter infrastructure. You will get a closer look at:
● The Container
● Inside of the Container
● Cooling Distribution Unit (CDU)
● SmartPod API
● Temperature flow rates
● Heat Exchange
Speakers
Brought to You by