Energy Smart
Visit 2021 event
The industry's most important FREE virtual conference on climate change
Akamai Case Study: Carbon accounting and renewables procurement in practice
This session took place on April 27, 2020
Please complete the following form to access the full presentation.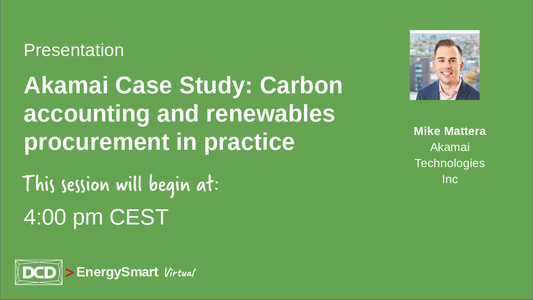 Carbon accounting and renewables procurement in practice
In 2015, Akamai set a goal for their data centers to be 50% renewable by 2020, achieving this through non-traditional strategies that would see them collaborate with Apple, Etsy and Swiss Re via VPPAs to accelerate renewable energy deployment through economies of scale. Since then, their platform has used 61% less energy, whilst traffic has continued to grow across their network, helped by a number of carbon footprint management methods, which will be highlighted in this session.
Join Mike to hear more about their procurement of renewable energy and the challenges faced, particularly as a geographically widespread organization. Learn also how they have implemented carbon accounting, how to ensure accounting is done accurately, and what this has meant for their business – what is the right mix of emission factors to use to get a sense of the total impact? What techniques have helped to achieve a more granular level of accounting? How can the technologies be integrated to enable carbon footprint to be quantified and tracked in real time?