Tech Showcase: Power monitoring and storage
This session took place on July 22, 2021
Please complete the following form to access the full presentation.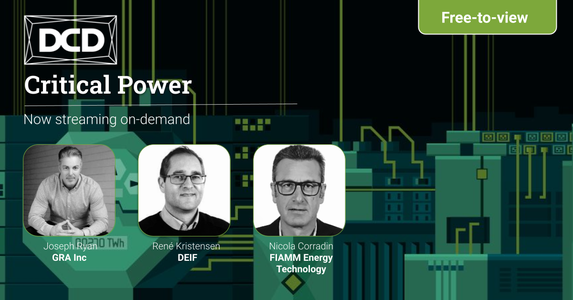 Tech Showcase: Power monitoring and storage
A series of quick-fire presentations showcasing the latest technologies to drive rapid innovation across power monitoring and storage infrastructure.
FIAMM Energy Technology - Meeting the Data Center Battery Challenge
Data Centres play a critical role in our digital world. Operators have many challenges to meet in providing 24/7 operation, balanced with growing environmental concerns. Some key operational issues concern energy consumption and sustainability. In this session we examine the contribution that selecting the right backup battery solution can help in solving some of these environmental and sustainability issues, as well as meeting investment restrictions, reducing the operating costs and safety considerations.
DEIF - Achieving carbon neutrality and ensuring resilience with hybrid eco-systems?
The data centre industry has committed to becoming carbon neutral by 2030, and 75% of this goal is to be attained already in 2025. With most critical power systems in the industry still running on fossil-powered gensets, operators need to find ways to reduce emissions. Using hybrid eco-systems, it is possible to optimise genset performance and integrate renewables such as PV panels and battery storage in a resilient critical power solution. This presentation explains how you can combine reliability with sustainability and introduces two important factors in making it work.
HITEC Power Protection & GRA Inc - Infrastructure & management improvements impact on operations
The benefits of upgrading older technology with new, more robust machines & the methodology needed to do
Brought to You by