Achieving carbon neutrality with gas engines and battery storage
This session took place on July 23, 2020
Please complete the following form to access the full presentation.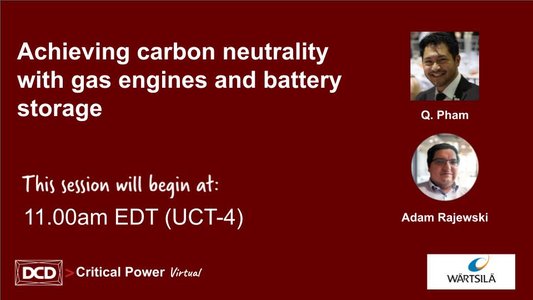 Achieving carbon neutrality with gas engines and battery storage
As mission-critical power infrastructure has typically been reliant upon local power grids and on-site diesel generators, this combination has become increasingly problematic in the area of emissions, especially for large facilities. As a response to this challenge, microgrids consisting of energy storage and renewables can provide the needed reliability and uptime when coupled with gas engine technology. Not only does this combination provide reliable power while keeping the environmental footprint of a data center carbon-neutral or even carbon-negative, it is also future-proof as a fully renewable solution as gas-fired engines are being developed to burn hydrogen and other synthetic fuels.
This presentation will show how current progress in gas engine and battery technology can be used to resolve the challenges of today's hyperscale data centers, as well as explore the carbon-free options to power data centers of the future.
Brought to You by