Building at Scale
Watch sessions on-demand
The virtual conference on data center design & construction
Bridging the energy (or utility) gap: Build where you want when you want
—
The availability of affordable power, water, land and the communications network are the biggest concerns when planning a new facility, and the absence of any of these elements can significantly delay or halt projects completely. But what if you find a site that ticks all the boxes apart from meeting the power requirements? In areas of high demand such as Northern Virginia, sites that are ripe for locating data center facilities, especially economic development areas, quite often are not immediately equipped with adequate power availability. So what options exist to bridge this gap while you wait for the utility to catch up?
This presentation will examine how new sustainable solutions are emerging that have the potential to shake up traditional site selection, and create an environment that is conducive to building at speed and scale.
This session took place on July 9, 2020
Please complete the following form to access the full presentation.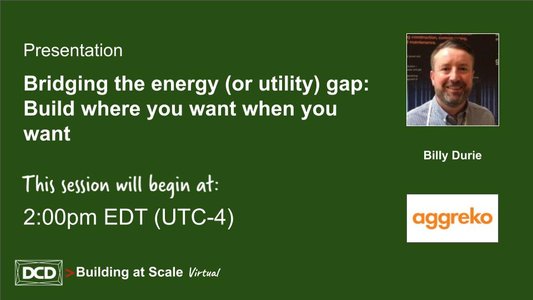 Bridging the energy (or utility) gap: Build where you want when you want