Tech showcases: Intelligent power & software-defined storage
This session took place on March 24, 2021
Please complete the following form to access the full presentation.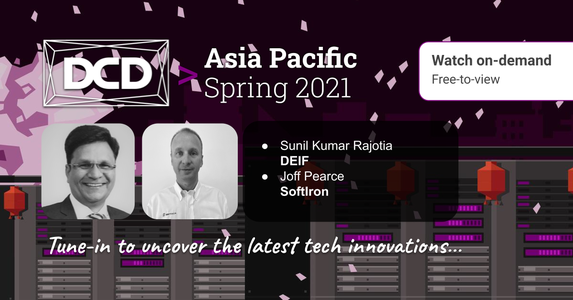 Tech showcases: Intelligent power & software-defined storage
SoftIron: Re-defining Software-Defined Storage  - all the performance, without the complexity
In a world of storage technology complexity, SoftIron® is helping to enable the effortless adoption of open-source, software-defined storage for the enterprise. SoftIron's HyperDrive® storage platform is purpose-built for the leading open source, software-defined storage (SDS) platform, Ceph. In this practical showcase, Joff Pearce, SoftIron's APAC Solutions Architect will introduce viewers to 4 key approaches to SDS and will demonstrate how HyperDrive is helping to address the challenges within the modern-day data center, particularly those looking to build at scale in the region.
DEIF: Designing a scalable hybrid solution with the resilient and reliable DEIF AGC-4 and ASC-4 controller platforms
Critical Power System Specialist Sunil Kumar Rajotia, ATS, will show how to deploy DEIF controllers in a resilient and reliable hybrid solution. He will present value-adding testing and emulation features that help power professionals design redundant, resilient, and reliable backup power with renewable sources.