APAC Evolution
Watch sessions on-demand
The virtual conference focused on meeting regional data center & cloud demand
Tech Showcases Day Two
This session took place on July 2, 2020
Please complete the following form to access the full presentation.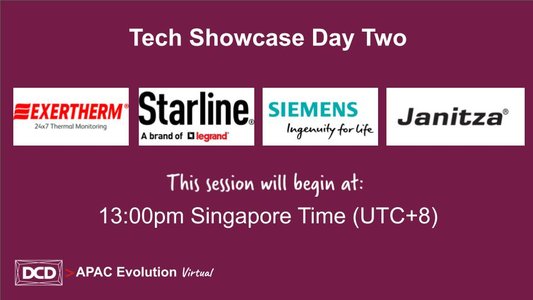 Tech Showcases Day Two
A series of quick-fire presentations showcasing the latest technologies in the areas of power & monitoring to drive expansion and innovation in the APAC market.
Exertherm - Why is sensor selection a critical decision for IIOT ?
The accelerating global IIOT revolution, requires the transformation from periodic data collection to continuous monitoring data collection, which is subsequently analysed; transforming the data into commercial information which provides the significant bottom line benefits available from IIOT. This presentation will identify and explore why the selection of sensor technology for data collection is one of the most critical decisions, and why it should not be delayed.
Janitza - New UMG804 – advanced intelligent PDU monitoring
Controlling costs and maintaining reliability are at the core of what today's data center is built to achieve. Advanced metering technology is a key element in that effort, providing deep visibility into the distribution and consumption of power along with potential reliability exposures and power quality issues. The new UMG804 Branch Circuit Monitoring System is the heart of Janitza's advanced intelligent PDU monitoring and data center solutions.
Siemens - Data is the new gold - AI in data centers
Data Centers make the perfect place for data and Artificial Intelligence offers an unprecedented opportunity to extract worth from it. Worth that human beings cannot achieve because it's too complex to get there. During the webinar, we'll show some of the typical AI use cases adopted by data center operators, and we'll focus on three of them: capacity forecasting, anomaly detection and cooling optimization. Software applications backed by AI are helping data centers operators to improve existing processes, faster and more accurately. In the future we will achieve higher levels of service availability, extend asset lifecycle and provide more accurate business analytics.
Starline - Proactive maintenance in the data center
Uptime in data centers has never been more critical and the cost of a catastrophic event higher. Starline's latest innovations, which integrate into Track Busway and Critical Power Monitor products, enable operators to proactively monitor and trend temperature data at the end feed and branch circuit levels by use of temperature sensors, IR window tap offs, and residual current monitoring.
Speakers
Brought to You by