Charity Partner
2022 Charity Partner: Chain of Hope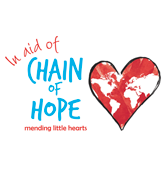 Chain of Hope was established in 1996 by Professor Sir Magdi Yacoub OM, FRS; a pioneering and world-renowned heart surgeon. Chain of Hope exists because 1 in every 100 children is born with a heart defect and in many countries cardiac treatment is very difficult or impossible to obtain. An estimated 15 million children die or remain severely ill every year due to preventable or potentially treatable cardiac diseases.
The concept behind Chain of Hope is a chain of donors, organisations and volunteers linking together to connect a child suffering from heart disease with a surgeon who can save their life. Sir Magdi began Chain of Hope by recruiting some of the most influential and well-respected leaders in the cardiac world to guide and grow the charity, as well as to give their time to perform their life-saving work. 
21 years later, Chain of Hope have over 350 volunteer medical professionals helping them to move closer to their long-term goal that all children, wherever they are, have access to quality cardiac care in their own countries. 
Chain of Hope works towards this goal by organising for teams of medical volunteers to fly to hospitals in developing and war-torn countries to perform surgeries on local children, alongside local medical teams. They also fly children who are urgent cases to their partner hospitals in the UK and abroad for emergency treatment. Another important aspect of their work is establishing, developing and supporting cardiac units in these countries by providing training, equipment and infrastructure. 
​
Make a donation