The Edge remains an ill-defined and marketing-focused term used by companies that are often looking to repackage their existing products for a new audience.
But while many see it as a promising opportunity in the future, one company has staked its business on the Edge not just being the wave of the future, but on it being a very tangible reality today.
AtlasEdge was formed in 2021 by Liberty Global and Digital Bridge (then Digital Colony) to combine the two giants' assets for a European Edge play.
The company now operates more than 100 Edge data centers across Europe in cities like Amsterdam, Barcelona, Berlin, Brussels, Copenhagen, Hamburg, London, Leeds, Madrid, Manchester, Milan, Paris, and Zurich.
Serving the underserved
To gain a better understanding of AtlasEdge's approach to the Edge, DCD spoke to the company's SVP for colocation, David Hall.
A veteran in this industry, Hall boasts over 15 years' worth of experience in the carrier-neutral data center industry, most recently at Equinix.
A year on from that move, he explains that AtlasEdge is on a mission to serve the areas that are often underserved.
"We're not particularly interested in the FLAP [Frankfurt, London, Amsterdam, and Paris] markets as these are covered by the legacy colos already. Instead, we're very much interested in serving those more underserved markets, such as Berlin, Hamburg, Stuttgart, Birmingham, and Leeds."
The company provides an array of services to its customers, including traditional colocation, Edge colo, interconnection, cloud access, IXP access, and remote hands.
"Fundamentally, the Internet relies on data centers that are the equivalent of two Michelin restaurants, and you know they're beautiful, and many of them are beautiful, magnificent temples to data centers," he explains.
"So I guess that is where we would think of ourselves as similar to McDonald's. You can go anywhere in the world and you can get a Big Mac and you know that it is consistent and it's low cost.
"It's super reliable at two o'clock in the morning when you've just stepped off an airplane in Singapore, and you're hungry. There's always going to be a McDonald's there. And I think that speaks to the kind of similarity in our model. We want to provide a consistent, reliable product available at any time to our customers."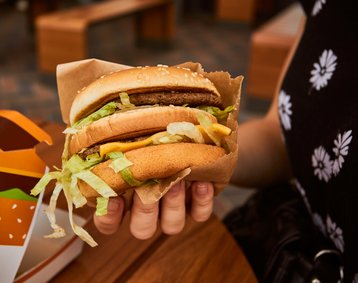 A varied menu for its clients
Like fast food joints, AtlasEdge's facilities can vary greatly in size. These can be from 2MW all the way up to 20MW and anything in between.
"Cities such as Liverpool and Bristol - and Brighton where I live - there's not a need for these huge 100MW data centers, but a smaller class of data center that we call aggregation hubs," says Hall.
Hall adds that AtlasEdge has the ability to mix it up, depending on what their clients request of them.
"We assumed that these secondary and tertiary markets would require data centers of the order of two-six megawatts, or around that. But we're really seeing them exceeding that, particularly from the platform demand. So, an individual platform requirement in a secondary market such as Hamburg or Berlin is way in excess of two or three megawatts just for one platform."
He explains that the company categorizes data centers like you would when you're out shopping for a T-shirt. The smallest AtlasEdge data centers will offer 500kW, while 2MW would be medium, and 4-6MW would be large.
Since this initial approach, he says that AtlasEdge has added an XL size, noting that some projects the company has under development for 20MW.
When it comes to who is using AtlasEdge's data centers, Hall estimates that hyperscalers account for the highest usage at around 60 percent, followed by telcos and enterprises with 20 percent apiece.
"A lot of the demand has been from hyperscalers. When we deliver capacity to them it tends to create an ecosystem around that. Each of the hyperscalers has an on-ramp to their public cloud product.
"When we're building out capacity for the hyperscalers, they're very interested in building these out in Edge locations so they to get traffic onto their networks as quickly as possible."
Leveraging its assets - Virgin Media
When the creation of AtlasEdge was first announced, DigitalBridge CEO Marc Ganzi said that the new company was "an opportunity for us to apply the entire Digital Colony value-add playbook, leveraging our operating expertise, strategic M&A capabilities, and access to institutional capital in partnership with a world-class organization like Liberty Global."
The M&A chops soon came to the fore, after AtlasEdge acquired German data center firm Datacenter One (DC1) from Star Capital.
Although financial details of the deal were not revealed, it saw AtlasEdge expand its footprint in Germany, scooping up two data centers in Stuttgart, and one apiece in Dusseldorf and Leverkusen.
Meanwhile, in the UK, AtlasEdge is planning to develop two data centers in Manchester.
Each building will have four data halls over two floors, totaling 3,426 sqm (36,900 sq ft).
Significantly, the company will be constructing these data centers next to a Virgin Media-O2 facility, which accommodates a data hub for the telco and some colocation operations. Virgin Media-O2 is owned by Liberty.
These developments show just how significant the backing is for AtlasEdge, says Hall, which he calls the lovechild of its two giant parents.
"This JV means we have fantastic financial backing, particularly from DigitalBridge, which is obviously a big investor in this space. But really importantly - and this is how I differentiate us from other data center operators who have suddenly become Edge data center operators in the last couple of years - we have real access to these networks, which really is the crux of what we mean by Edge."
View on the Edge
During a DCD panel on the Edge earlier this year, AtlasEdge VP Edge strategy Mark Cooper defined Edge as "an ever-evolving definition" depending on the day of the week it is, before noting the metaverse and what it can bring.
Hall is a bit more direct with his views on Edge. "Edge means where you can connect into the last mile networks. So wherever that place is, that is the Edge of the network. It's not the Edge of the map."
He adds: "If you look at the landscape of so-called Edge providers, there's been a lot that has popped up over the years, the last couple of years, certainly. And frankly, they're all businesses that existed before and have now put Edge in the name because it's the next cool, trendy thing," joking that these people probably had AI in their name five years ago.
"The challenge for many of those providers is that they don't have the relationships with the networks, which AtlasEdge does through Liberty Global."
Recent investment will bring further acquisitions
AtlasEdge isn't showing signs of slowing down with its ambition to acquire and build more data centers.
In April, the business announced that it secured a €725 million ($800m) credit facility, of which the package consists of €525 million ($579m) in committed debt financing and a further €200 million ($221m) uncommitted accordion.
The financing also includes sustainability-linked targets focused on efficiency and renewable energy usage.
At the time, AtlasEdge said the facility provides AtlasEdge with 'considerable firepower' to execute further strategic M&A and build new sites throughout Europe's key markets.
"They are not free to build right?", adds Hall, who says the money will be invested very quickly. He notes that the investment shows that AtlasEdge is able to raise significant capital for future M&A opportunities, and data center builds.
"Put simply we've had to finance the DC One deal and so part of the facility loan has gone towards that.
"On top of this, we've been investing heavily in data centers and have got some data centers in some great locations, but frankly, some have been unloved for at least 10 years, and to love data centers tends to mean money, so we're investing significantly in improving these assets."
Hall adds that the company is also investing in its PUE (Power Usage Effectiveness), with liquid cooling a possible avenue for efficiency improvements.
He explains that will help with cost and sustainability, and says AtlasEdge is working with three preferred vendors of liquid cooling, including ChillDyne, ZutaCore, and Submer, which provides immersion cooling.
Identifying the potential of liquid cooling, Hall says he expects it to account for a third of the workload in the coming years.
"We very much want to give customers the chance to be able to make their own choices with respect to liquid cooling, because I think the markets are still in flux. But operationally, we also want to understand this stuff.
"We need to start from somewhere. So we chose three options, which I think gives customers good flexibility. But if your customers want to bring along their own cooling solution, that's fine, too. In terms of our planning, we're expecting about 30 percent of the workload to be liquid-cooled in three years' time."
European push for now
"Europe is huge," laughed Hall, when asked about expansion plans beyond the continent, noting that its work in spreading out will keep it occupied for some time.
"We've got so many projects ongoing, so I think realistically over the next three to four years, you'll see us build around half a gigawatt, maybe even a gigawatt of capacity.
"We could deliver that in Europe, right? So, for us, we're super focused on growing that European market for now."
As for other markets such as Asia or North America, the company isn't immediately looking to venture into these regions, but as Hall says, "never say never."
"Wherever we are, it's about being consistent with the solutions we're providing. We're really focused on making sure that customers can buy the Big Mac, wherever they are on the AtlasEdge platform."