Back in 2018, telecoms giant AT&T had some 31 data centers in 11 countries. Like a lot of other telcos, it had built up a colocation business over a period of years, Now, like most of those other telcos, it decided to sell them off, and focus back on its core business.
Andy Stewart is head of Evoque, the data center provider which investor Brookfield Infrastructure constructed when it bought AT&T's portfolio for $1.1 billion at the end of 2018. He's replaced the launch CEO, Tim Caulfield, and he thinks it's time we sat up and took notice of the new kid with the established pedigree.
"It's a billion-dollar startup," Stewart told DCD. "Brookfield bought 30 data centers around the globe, with 1,000 customers and a great ops team. But the rest of the business had to be created around those assets."
Breaking free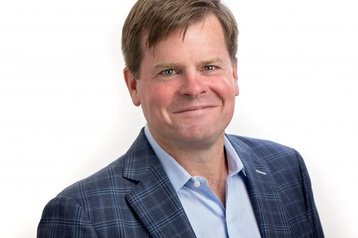 This feature appeared in the August issue of the DCD Magazine. Subscribe for free today.
Stewart has been in data centers since 2008, and helped created a successful "rollup" company, TierPoint, steering it through billions of dollars worth of acquisitions and financing. He was the initial CFO at Cequel, in 2010, which became TierPoint in 2012, and was part of the management team which led an investment-backed buyout in 2014. By the end of 2018, TierPoint was approaching 40 data centers, and he moved on to become a private equity advisor.
Now he's back running data centers, and Evoque is both a blank canvas, and a going concern: "It's still new in so many ways, with growing pains and I have a chance to put my stamp on it.
"We're still getting our feet under us, but my goal is to double or triple the size of our business in the next five years, both through acquisition, as well as organic build."
The backing of Brookfield gives the potential for organic growth and acquisition: "Knowing their scale and size, and where they want to go in infrastructure is exciting - knowing we have a partner with billions of dollars in capital."
It's also long term: "Traditional private equity looks at the business quarter on quarter, but Brookfield's horizon is decades. We're not thinking about how to maximize returns this quarter, but how do we maximize returns over the next five to ten years. It's very patient capital, which is exciting to be a part of."
A different tact
Unlike other large data center startups, Evoque is not going after big wholesale customers. "We are not targeting hyperscale. That's an overcrowded market: If we tried to compete with Digital [Realty], QTS, CoreSite, or CyrusOne, that wouldn't be a wise use of the assets. By taking a little bit of a contrarian approach and going after multinational enterprises we'll stand out, not by chasing deals on a cost of capital basis."
It's also not set up as a public REIT (real estate investment trust): "That gives us a bit more flexibility, if we go down the avenue of added services," he said, explaining that REITs are required to have standard services across geographies.
One big differentiation is Evoque's global nature, compared with some providers: "We have got a great presence in Asia and Europe, and many of our customers are in multiple countries with us."
Evoque is planning to be opportunistic, however. Covid-19 has sparked a financial downturn, and this may make acquisitions and mergers possible. "As things fall out from the epidemic, that could be an opportune time for us to look at M&A."
Although data center business is still growing in the pandemic, he sees an effect on relations with existing customers, alongside deals to bring in new ones: "With existing customers we've seen a speed-up of activity, but with net new customers, we've seen a bit of a pause. In March and April, everybody just stopped what they were doing in terms of new business, whereas existing customers had a lot going on and needed a lot more support."
That increase was down to shifting work patterns: "We've been seeing a speedup in requirements to meet end-user demands with increasing Internet traffic and the need to support users at home. At the same time, we've seen a decrease in site visits. Customers aren't coming to us so there relying on us more for remote hands, an offering we have at all our facilities."
The AT&T legacy has given Evoque an experienced team ready to handle this change. "The vast majority of our ops team came across from AT&T, and some have been with these assets for 20 plus years. They know those data centers inside out.
"Operationally, the only adjustment we've had to make is more remote hands work, and fewer site visits. But those two kind of offset each other, so we've been able to be as efficient as before."
Rosters were changed to keep from spreading the virus, but that was no big deal: "Operationally, data centers don't require a ton of people."
Having global sites was also a help: Asia was hit by the pandemic first, and Evoque's US and European staff could benefit from the experience of its Asian workers.
Evoque hasn't had any trouble with getting staff into work during the pandemic, said Stewart, but he's keeping an eye open for political disruptions: "We are in Hong Kong, and we are preparing in case something happens there."
Now lockdowns are easing (at least when this article was first published), and new business seems more possible: "We are starting to see the virtual data center tours picking up. Net new workloads and migration will pick up again. When the economy opens up and people start to move, there will be a large pent up demand. I've heard this from real estate brokers, there's large enterprise demand, waiting for the Q4 2020 or the first quarter of 2021."
Most of Evoque's existing customers, and those it's targeting, will have between one and five MW of capacity. "We will go above and below that, but that's our sweet spot."
In some ways, though Evoque is a new player, it's continuing AT&T's strategy: "We really are targeting larger enterprise, multinational enterprise customers that have large requirements, maybe in the top US cities, but ideally with a global requirement."
And of course, one of these customers is AT&T itself, although the company has diversified: "I know they have PoPs around the world, and we're not always there, but I believe we are their primary provider."
Evoque's customers may want space and power in the US and UK and Germany and Singapore. Evoque can give it to them, with the flexibility to shift it between locations: "It's very difficult for customers to predict colo requirements. They have one umbrella agreement so, as they get more accurate data on usage, if they deploy in Ashburn, but need more capacity in Singapore, they can shift that spend from one to the other.
"That ability to help our customers support their end users is something which differentiates us from a lot of other providers."
Sometimes this may mean a customer has as little as 50kW capacity in one location and more elsewhere. "It's only us and Equinix that can do that."
There's another similarity with Equinix. Most of Evoque's existing customers also go to AT&T for their networking, so it's a connectivity play: "That's why they chose these data centers, and we think that helps make customers stickier."
Equinix also majors on connectivity - but there's a big difference: "We don't have the same connectivity-rich carrier hotels as Equinix. So we are going to make an effort to add carrier diversity. We have a carrier team that's actively getting additional carriers into our sites, and in general we are adding four-plus carriers a year to each of our data centers. We're not at the end, but we have a rich carrier diversity."
Stewart plans to grow Evoque, more by acquiring than building data centers."We are not as big as we intend to be long term. We want to have facilities that will support large deployments over time."
And those acquisitions are likely to be in competitive markets: "London is a place where we have a presence, but we're actively looking for a way to acquire a larger, more scaled-out data center to help us grow in the future. And we can use our customer base to migrate over and make the economics more appealing.
"In Singapore, we have a nice presence, we've got a great customer base, but we don't have our own data center in Singapore. We'll actively look for something where we can be a focused presence in these markets. Brookfield wants us to be in a market and be all in.
"AT&T had its spots in Singapore and London and that was fine for them, but there wasn't an active effort to expand."
The existing facilities are in good shape: "They were all built to be Tier III with 2N configuration, and we've got great statistics around reliability. We have the capex to make sure they're up to speed for the next decade. There are probably some cosmetic things we can do, but it's not a wholesale change-out of the assets."
We must do better
But Stewart has some upgrading to do on Evoque's stance on global issues. While the company has a lot of renewable power to many of its sites, it's not made a bit public commitment to phase out fossil fuels. However, it's on the agenda of its strategy meetings, and a move in this direction would fit well with its investor: "Brookfield has a large renewable practice, with tens of millions of dollars invested in renewables."
He's also raising diversity: "We are driving to be more diverse and inclusive as an organization. That's something I talked about on my first day. The data center industry tends to be overindexed towards white males, and we are no exception. We have a diversity and inclusion task force, created the first week I joined.
"Everybody gets into the habit of recruiting from the same places, and when you do that, you recruit the same kinds of people. So we need to find ways to broaden our scope and change the places we are looking to. We think that a concerted effort will help us be more inclusive over time."
This is more than just a statement, he says: "We are not just looking to hire more people of color. We are doing it because a McKinsey report says companies that are more diverse perform 40 percent better, There are real benefits to being more diverse. Not just looking good in a press release."
Looking at synergies with the rest of Brookfield, Stewart can imagine Evoque working with its Latin American subsidiary Ascenty, as well as its Australian property DCI, but has another big idea at the back of his mind, based on Brookfield's real estate.
"As Evoque changes over time, looking at services, we might get into Edge compute," he said. "In Atlanta where we have a great data center, Brookfield has properties downtown. Those could be Edge nodes, and ours could be the hub."