Telehouse's smart new North Two data center boosts the KDDI-owned global data center provider's space in London, and extends data center technology, as the world's first six-story adiabatically cooled facility.
On a tour of the new space, DCD saw the tweaks needed to run six floors of adiabatic coolers above each other, got the story behind the printed-circuit board on the outside of the building, and took the opportunity to challenge our vertigo by stepping out over six stories of air circulation space.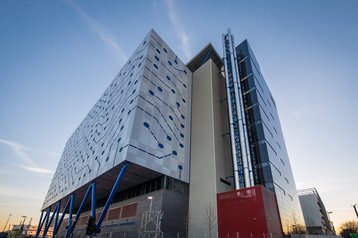 A giant leap 
The new site cost £135 million., and adds 11.000 sq m (118,000 sq ft) of data center space, bringing Telehouse's London holdings to 73,400 sq m (790,000 sq ft) connected to over 530 carriers through two Meet-Me rooms, marketing director Michelle Reid told us, after an introduction from EMEA managing director Hiroyuki Soshi promised this would be one of the greenest data centers in the world, as well as one of the most connected.
The new building will achieve a power usage effectiveness (PUE) of 1.16 thanks to adiabatic evaporative cooling, promised Reid, and the site has a total of 73MW of power available, including the rare benefit of an on-campus 50MW power substation at 132kV.
Telehouse has been owned by KDDI since its formation, and opened its first London data center in 1990. It now has 48 locations in 24 countries, serving some 3000 customers including enterprises, cloud providers and telecoms firms. 
The company is marketing fast links between its sites, the kind of ecosystem pitch we are seeing in the Equinix Internet Business Exchanges and services from Digital Realty. Interestingly, for more than 20 years, Telehouse in London has hosted LINX, a pioneering Internet exchange whose neutral services are now being challenged by these semi-walled gardens.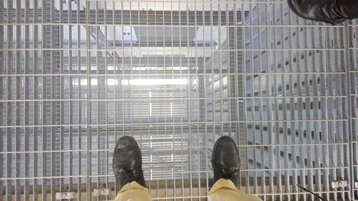 A giant leap
The building is cooled by adiabatic units from Excool, which are installed on each of the six data floors, and fed cool outside air through a scary six story space, divided by grilled flooring. 
Building a six-story adiabatic data center was no easy matter, said Paul Sharp, building manager as he showed us round: "You have to segregate the cool air coming in and ensure you get the hot air away."
Telehouse enlisted the help of Cundalls and used computational fluid dynamics (CFD) to design the building, which draws in cool air on one side and expels warm air on another face, using the prevailing win direction to remove the warm air. 
The data floors use a plenum system, with cabinets installed on a hard floor, contained hot aisles at around 38ºC, while a slow flow of air at 25ºC is drawn through the room. 
At present two of the six floors are operational, so only a proportion of the supporting equipment is in action. There are four generators in one generator room, with an adjacent second room available. On our visit it was used as a somewhat chilly auditorium.
No downtime
We got a thorough look at the power provision - possibly to dispel any doubts caused by a widely-reported outage at North One in July. The site has a full complement of multiple power sources, UPS with battery backup, and diesel generators.
"This building is like a giant PC box, with fans at one side and processors in the middle" 
The generators are well away from the outside, with seven meters of sound attenuation taking their noise down from 90dB to below the  54dB required by European law. The V20 engines are kept warm with electrically heated jackets, ready to start at 10 to 30 seconds' notice. They are tested for four hours every month, and every quarter there is a full "black building" test. The site has 100,000 liters of diesel ready. 
There will be two UPS rooms on each floor, so customers will get A and B connections, and the UPS batteries provide power for 15 minutes.
In normal operation the site is powered from two grid sources, via the batteries. If one source fails, the generators are started, as a backup and the site is switched across to the other grid source, and thence to the generators if required.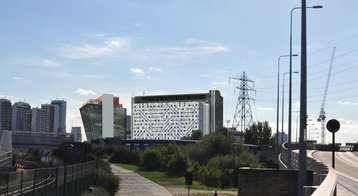 Inspired by a broken phone
"This building is like a giant PC box," said Sharp, "with fans at one side and processors in the middle." Thanks to the six-story design, it does look like an old-fashioned  tower-design PC, with some case-modding on the outside. 
The PCB design on the outside had an interesting history, Sharp told us. The company was encouraged to use a bold design as the building is the first one seen on a major road into London, but the local council rejected its first idea of a vibrant giant moving display. That would distract drivers and be dangerous. 
The company next suggested a picture of a sailing ship, drawing on the location in East India Dock, but the council said it wanted something forward looking, not nostalgic.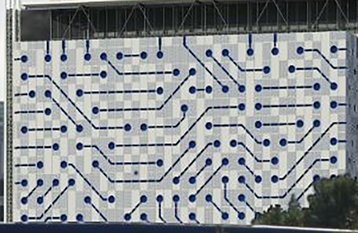 Sharp says the architects were stumped until one of them dropped his mobile phone on the way to a meeting. The device shattered, and he saw the printed circuit board inside.
Apparently only small changes have been made from the actual PCB in the architect's phone, so it may be possible to work out from the outside of the building just what model of phone was involved. 
Here's your challenge DCD readers: can this story be true? An if so, what phone did the hapless architect drop?