If you head north on the New Jersey Turnpike, somewhere between exits 9 and 10 the scenery begins to transform from tree-lined monotony to industrial grit. Here you will see brownfield settings worthy of silver screen mobster meets. Off exit 10 in Edison you will find a large steel monolith to industrial manufacturing – one that blends with the landscape of warehouses and oil refineries. The building, formerly a printing plant for The New York Times, is now a symbol of the region's industrial transformation.
IO operates data centers on three continents, but with 718,000-sq ft of floor capacity, its colocation facility in Edison is the world's largest modular data center. It went live for customer use in April 2011 and is IO's largest facility to date. From finance to media, the list of clients that contract space in this sprawling facility includes some of the most recognized brands operating in the New York metropolitan area. Ryan King, a sales director at IO, gave me a tour.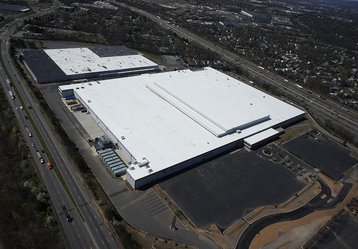 Plugging in customers 
Power, cooling and connectivity – it's what IO provides to customers at its co-location facilities. "That's it," King contends.
IO is known for its prefabricated data center modules; however, a few weeks before my visit, it announced it would split into two companies in early 2015, spinning off a new brand called BaseLayer that sells the prefabric ated modules. Rebranded as BaseLayer, the new firm manufactures prefab units for IO's facilities and elsewhere.
The New Jersey data center is divided into quadrants. The available floor space in one of these sections is already filled out, while the active quadrant, DC2, is slightly above halfway from maximum occupancy. King says the entire facility would be contracted out in about three years, at the current sales pace.
Setting up the initial infrastructure in each module is one of the few times customers visit the facility. "Once they move in, we don't see them often, because most of this stuff is remotely accessible." Customers on its preapproved list of visitors are given 24/7 access to the facility. Because IO doesn't monitor customers' equipment, the company's responsibilities comprise the four basics: power, cooling, network and security. "I don't need a bunch of people behind a desktop monitoring servers," he says. "We can run a pretty lean crew based on our OS."
"It's a build-on-demand model," says King, as we continue our aerial survey of DC2. All the components a customer needs to run a data center are built into each module, and when those customers need to expand capacity, additional modules can be added on "like a giant Lego kit," he explains.
Modules from the factory
New modules are built and shipped from the company's BaseLayer factory in Chandler, Arizona, and are the only prefabs used in IO's modular data centers. The units are cooled via a bi-directional chilled water loop that runs around the bottom of the units. When compared with its flagship Phoenix, Arizona, facility, which is a combination of raised-floor and modular, the company found it could lower its power usage effectiveness (PUE) to 1.3-1.4 versus a traditional raised-floor PUE of 1.7. "You are talking about saving hundreds of thousands of dollars on cooling just by using this modular approach," he says.
The facility is powered by local utility PSEG, and IO has its own 100MW-capable dedicated substation located behind the building; it is also connected by redundant loops from a nearby switching station.

The facility was operational when Hurricane Sandy struck in the Autumn of 2012, and King says it had "zero issues," despite widespread power outages in the region. Although the juice continued flowing to the data center in the storm's aftermath, King says IO pitched in when its utility asked it to switch to generators to help ease demand.
At the end of each row of prefab units are modules that deliver power from cables running along suspended trays over each row. Network fiber cables are also delivered along the same overhead tracks.
A customer's newly purchased BaseLayer module would appear, upon delivery, a rather barren closet on the inside, as King takes me through a unit devoid of IT kit. It comes equipped with a few standard features, such as surveillance cameras, built-in power distribution unit, fire-suppression system, early warning smoke detectors, power outlets, LED lighting, and leak-detection for air handlers. A customer would bring in their own gear, cabinets and racks.
King points out that, unlike the traditional raised-floor data center, the module is a six-sided, self-contained box. It cannot be accessed without authorization from above or underneath. For the purposes of water damage, if IO's building had a ceiling leak, it would not penetrate the module. And fire hazards are self-contained within each module and will not spread to others. "From a security perspective," he adds, "it's the most secure solution available on the market."
When it comes to network security, it's up to the client, but IO does provide some monitoring for distributed denial-of-service (DDoS) attacks. This was confirmed by Lenin Aboagye, IO's director of IT, cloud and product security. "We have implemented an analytics engine within our facilities that will monitor network activity at all points of ingress," he says. IO monitors traffic at each of its facilities to establish a baseline of what's normal. "This helps us increase our response time to any potential DDoS-related attack by measuring any spikes against traditional network performance trends," Aboagye says.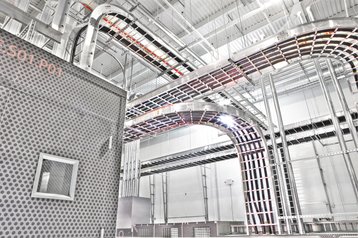 One reason for locating in New Jersey is because "it's not New York," says King, "and it's close enough to the exchanges that we can still get high-latency bound customers." Two of those customers are Goldman Sachs and the US Securities and Exchange Commission (SEC). Another reason is the cost of power, which is much more expensive in Manhattan and the surrounding boroughs.
Clearing out the closets
"A lot of customers have no idea exactly what they want; they just know they need to do something. Some of them have a closet full of gear coming up on a refresh, and they need to figure if they are going to refresh that gear, outsource it to the cloud, or co-locate," he explains. "So, a bit of consulting work goes into getting a client into our facilities."
451 Research defines a prefabricated data center module (PFM) as a technical facility that is created using one or more standard structural building blocks prepared in, and transported from, a factory-like environment for final on-site integration. The analyst firm's research predicts a 52% CAGR for the PFM market between 2011-15, increasing from $460m in 2011 to $2.465bn in 2015.
Historical questions about the reliability of modular have lingered, says Daniel Bizo, a senior research analyst with 451. He says, however, that mission-critical deployments without a record of major issues have been operating for years. In 2000 there were two or three vendors in the prefab market; today there are approximately 50, offering hundreds of designs, many with a proven track record through years of operational experience.
"Prefabricated modules are nothing new in the industry, as they have been around for almost a decade, but they are just recently gaining momentum with data center operators," he says. "Now they are focusing more on efficiency. Historically, it's been about speed, but I would also point out benefits such as predictability of operational performance, faster commissioning, and better cost controls. IO is focusing on prefab for these reasons."
Bizo points out that IO was an early mover in the prefab market. "What makes them a leader is that when they compete against data center operators using the traditional approach, with monolithic sites, their modular colocation model allows them to manage their cash flow more tightly and expand into new markets more quickly. The modular product lowers the risk of their business plan. They don't need to build out their sites based on a forecast for the next three or four years; they can instead build for the next 12 to 18 months given that their sites have available capacity to absorb additional units."
The analyst concludes that IO has done a superb job raising the profile of the modular trend. "While this might seem a lightweight reason why IO has an advantage, you must realize that this segment is still immature, and even the large vendors are failing to use sophisticated marketing around the products, opting instead for more of an engineering focus," he notes. "They are not as good at articulating the finer points around modular, and this is where IO got a jump on many of its competitors," says Bizo. "451 thinks that prefab – along the lines of what IO is doing – is the first generation of the industry."