With the Internet of Things (IoT) quickly becoming a reality, tech companies are scrambling to capitalize on the potential business opportunity that a connected world could present.
Earlier this month, Hewlett-Packard Enterprise unveiled what it called the "first converged systems for IoT" - the Edgeline EL1000 and EL4000. Both are servers based on Moonshot technology that include data capture, storage and computing components, packed in enclosures designed to survive at the Edge of the network, where data is produced.
The company is betting that such systems will be used to provide valuable insights for businesses, increasing the incentive to quantify and track products and devices. This, in turn, will ultimately increase the amount of data they generate, and potentially drive up demand for data centers.
Liberating compute from the data center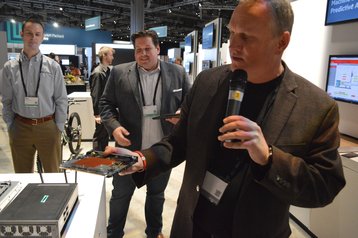 "How do we take the zettabytes of data that's going to be created and operationalize it much closer to the edge?" Mark Potter, SVP and CTO of the enterprise group at HPE, asked at the company's Discover event in Las Vegas.
The Edgeline series is HPE's first attempt at answering that question. The EL1000 is about 13 inches wide and 9 inches deep, contains one compute engine and support for Aruba's virtual intranet access, while the EL4000 is a traditional 1U machine that contains four compute engines and support for HPE's IoT analytics platform Vertica.
The compute engines come in two flavors, both originating from HPE's Moonshot line - the ProLiant m510, which packs 16 cores, 128GB of memory and 2TB of storage and is seen as 'the general purpose workhorse', and the ProLiant m710x, which includes an Intel Iris Pro Graphics P580, eight Xeon cores, 64GB of memory and 4TB of storage.
"We're taking compute that was designed for and trapped in the data center, we're kinda liberating it, and we're bringing it out to the edge and putting it in a form factor that allows it to survive out there," said JR Fuller, HPE's manager for the converged IoT systems and Moonshot business units, speaking to Datacenter Dynamics.
"The data center is this very pristine environment, there's no dust, no vibrations, it's very cool, there's this consistent power and connectivity and all this other stuff. So we had to take this level of compute and we're putting it at the edge, we have to put it in a form factor that's industrialized.
"I don't say ruggedized on purpose, because that means something to certain industries, and I don't want to mislead people - this is industrialized, it will break if you beat it, but it is set to be vibe and shock-proof and 95 percent non-condensing humidity and those types of things."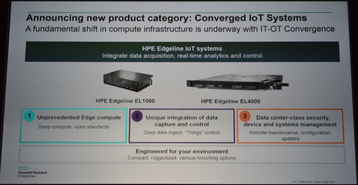 With this in mind, HPE aims to target areas where fast and reliable connections to distant data centers are difficult to achieve, such as in the manufacturing and the energy sector, which can have operations located in remote or hostile environments. "Now I don't have to have that umbilical cord back to the cloud to get machine learning or deep analytics," Fuller said.
In his view, businesses previously had to decide between 'fast' or 'deep' - for example, if a fire is about to start, a fast reaction would be preferable, but over the long term a deeper understanding could help predict the fire before it happened.
"If you wanted it fast, you moved it to the edge and put it on a gateway, to do something very simple, but fast. Whereas the deep, you had to send it to the data center. Now we've solved that problem, because we've taken a computer that was designed for that data center, and we've put it at the edge."
Fuller believes that HPE has solved the fast and deep tradeoff, saying: "You don't have to be connected. So now, I can go to places that haven't had this capability. I can go to an oil rig platform, I can go out into the desert. I can go on the mountain top.
"I can go places that I haven't been able to go to before, because everything previously required that connection back to their cloud, and satellites are expensive, and bandwidth is expensive, and if you don't have this extensive network you couldn't take advantage of that."
But while the entire selling point of the product is that it removes the need to be connected to a data center, Fuller insisted it will be a boon for the industry: "I don't think it's going to take any business away from data centers, I think it's going to have the opposite effect actually.
"Now, because we can do compute at this level of complexity and really refine that data and drive some of those business insights, we get a lot smarter in the cloud too. You get smarter throughout the entire data flow and value chain."
Pumped up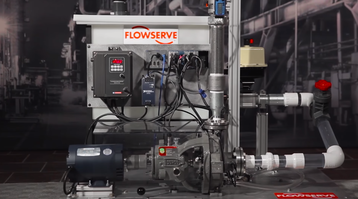 A use-case example that HPE was eager to demonstrate was a partnership with Flowserve. "Our business is about manufacturing and supporting some of the most advanced heavy equipment in the energy industry. Pumps, valves, mechanical seals. This new emerging technology around IoT is something that we're learning through our collaboration with HPE," said Eric Van Gemeren, VP of R&D at Flowserve.
HPE is teaming up with the company to put sensors on Flowserve's pumps. Each pump can have up to six sensors, each taking a measurement 50 times per second, and totalling around 5,000 pumps in an oil refinery. 
"These types of technologies allow us to keep the equipment running longer, dramatically reducing the maintenance time window, so instead of taking maybe 24 hours, it only takes eight or six. Now, that piece of equipment can get back into service that much faster, because they only make money when that product is running," Gemeren continued.
At Discover 2016, HPE had a working display system, where the pump was being monitored and tracked - all on location. "What you don't know is that it's going at about 15 percent of the CPU, so it's doing all of that processing right there at the pump, and it's barely moving the needle on the compute power that we're bringing there," Fuller told DCD.
Again, he reiterated the need to ultimately send the data back to the cloud. "There's value in learning about an individual pump and doing machine learning about that pump, but there's also values in learning about a family of pumps, in learning about a plant full of pumps or other machines. There's value going across the spectrum of the [three million pumps Flowserve operates].
"So imagine I can learn here about this pump, I can learn here about this plant, I can learn here about this family of pumps, I can learn here about my entire pump inventory. Each one of those requires you to pass information up the foodchain, if you will, from the edge to the on-prem, to the corporate, maybe to the cloud. That bigger fleet could span corporations."
This, Fuller insists, is what separates Edgeline from much of the IoT hype - valuable data that leads to a return on investment: "In the beginning of this hype cycle, we've really been missing out on the ROI conversations. I think now with these new converged IoT platforms we can really start to drill down into the ROI, and we can help companies start to realize that ROI."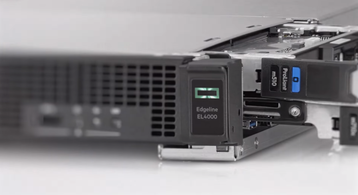 In his opinion, the industry has gone through two waves: "Wave one, there's some value in connecting a sensor to a thing and gaining some information about that.
"Wave two was the cloud - connect everything to the cloud, which is just a data center that you don't own." Edgeline brings us to the third wave, which "is about bringing the right compute to solve the right problem along that data flow."
This wave, Fuller hopes, will lead us "to see stuff that we've never seen before."
"I think it's going to be pretty easy to connect to your pump or your widget or drill or airplane engine, I think there's going to be platforms that are going to be designed to help you just drop and drag, and the partnerships that we have with GE, PTC, Intel and Microsoft are really going to bear some fruit, and I think we're going to see a whole community of developers just spring up around and embrace this edge compute, I think that would be awesome."
He continued: "This is one piece of the puzzle, but it's a piece that's been lacking. It has been constrained to the gateway side of the world, and that's why we're saying that this is a new market category, this is nothing to do with the gateways. This may exist in the same place, but it's totally brand new - converged IoT systems."