The finishing touches were being made to 1-Net North, as DCD took a behind-the-scenes tour of the new data center. Located at the northern tip of Singapore, 1-Net's new greenfield facility is less than 10 minutes' drive to the causeway leading across the border into Johor Bahru, Malaysia, and is on track to begin operations in the first week of April.
Distance is unlikely to be a problem though, as 1-Net North will be directly wired to existing facilities at 1-Net East Data Center and Mediacorp via a planned fiber optic backbone – 1-Net is a fully-owned subsidiary of MediaCorp Pte Ltd, a media company in Singapore. More notably, its bomb-resistant reinforced concrete walls and a total absence of windows at external walls means that the new 200,000 sq ft facility could probably be ranked as one of the toughest data centers in Singapore today.
To learn more about 1-Net North, we spoke to Wong Ka Vin, the managing director of 1-Net Singapore on the boom in new data centers here, what sets the new data center apart from the competition, and his formula for success.
People as the differentiator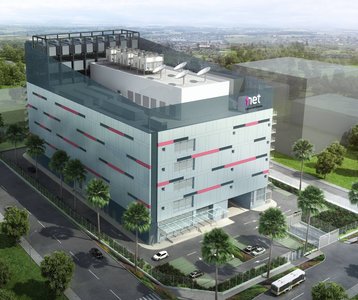 As we reported earlier, 2016 is a year where multiple data centers are expected to come online in Singapore, or are scheduled to see additional capacity being added. On this front, Wong was quick to point that that new data centers have half or less than half of their capacity available at launch, while new data centers typically take up to two years to construct. In other words, perceptions about a glut in supply may be a more imaginary than real.
Moreover, Wong highlighted that the types of customers that rival data center operators are targeting may also not necessarily be in his sights. "We have been focusing on [the] banking and media market," Wong said to us. "I think we are competing very highly in that space."
Wong is not resting on his laurels when it comes to standing out from the competition though. Hearing it from him, the focus is very much on people as the differentiator, as well as leveraging their skills and expertise to deliver both operational excellence and the right service experience to customers.
"Our differentiation strategy was put in place when we rebranded. This is not something that we did simply as a year on year exercise. When we rebranded ourselves, we did so around the fact that the real business of data center is people, meaning the way we operate," said Wong.
Delivering service excellence is not a one-time tick on a checklist, but requires the effort of the entire company, according to Wong. This includes proper hand-over between various teams within 1-Net, and includes how issues and incidents are being recorded, disseminated, and communicated with customers by the technical customer service center, he said.
"Implementing this kind of differentiator requires a lot of work. More importantly, we decided we need to establish a baseline; where we are, and where we are working towards," explained Wong, who told us that 1-Net's decision to engage with the Uptime Institute will not end with the completion of 1-Net North, the first Tier 3 constructed data center in Southeast Asia. "Two years after we finish the build, the Uptime Institute will come and review our sustainability and operations," he said.
Raising the bar on the data center
Talk of operational excellence and service experience aside, 1-Net North is probably one of the first few data centers that is designed from scratch to meet all physical security aspects of Threat and Vulnerability Risk Assessment (TVRA) guidelines by the Singapore Monetary Authority (MAS) for financial organizations.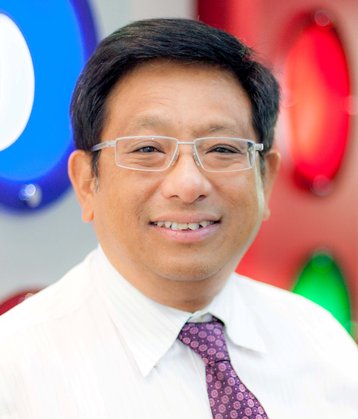 Aside from its bomb resistant superstructure, an anti-crashing barrier system at the main entrance is rated up to K4 impact rating to foil ramming attempts with vehicles. Moreover, the entire perimeter is enclosed by an anti-climbing welded mesh fencing, which is in turn anchored to a knee height reinforced concrete wall that extends deep underground in an "L" shape to stop even a runaway vehicle in its tracks.
There is also evidence that this focus on people has yielded some dividends before 1-Net North began its operations, at least in certain design and operational decisions. For example, power distribution equipment and racks on each floor are color coded because "people don't remember numbers in an emergency", according to Wong. In addition, UPS and each 'N' system of the UPS and battery rooms are located on opposite ends of that level, and not back to back as is often the case.
And unlike some data centers that have their backup diesel generators located in an adjoining structure, the backup power generators for 1-Net North are all housed on the rooftop of the five-story building. Specifically, the generators are stacked up to an additional three levels on one end of the roof, and shielded from external scrutiny with strategically positioned metal vanes that doubles as a façade around the roof area.
And the rationale for placing the diesel generators – including Diesel Rotary Uninterruptible Power Supply (DRUPS), on the roof? For tighter security and to better resist potential terrorist attacks, explained Wong when we asked. The desire to protect the rooftop real estate is probably why lightning dissipater units were installed on all corners of the building in addition to regulatory mandated lightning conductors.
We also observed that the gas suppression system for the entire data center is fed from gas cylinders in a centralized location, allowing for gas to be discharged more than once in an affected hall. And in the event of a catastrophic power outage, all essentially services supporting the IT operations are fully supported by UPS power, including those related to the building management systems (BMS) – eliminating configuration issues stemming from appliances or systems as they reset.
Finally, the 1-Net team made a deliberate decision to fit-out the halls using a "top down" approach starting from level five, which Wong explained as an arrangement that offers better cleanliness and security.
Without a vector all you have is hope
Ultimately, focus on operational excellence is no idle talk. Wong told us that 1-Net will be using the Uptime framework to establish a benchmark to measure against and to deliver service excellence to customers. "When you talk about service, you need to triangulate, there must be a vector. Without a vector, all you have is just hope. An intention with no outcome doesn't work," he said.
Operational excellence and customer service aside, there is no question that competition is intense in the data center hub of Singapore. On this front, Wong, who has almost two decades of experience in business development and data center, has a simple strategy to take 1-Net North ahead.
"If a data center operator is savvy, he can put together the right mix of tenant requirements for effective profitability based on yield when you measure space usage with power," said Wong. "On the other hand, an operator without the depth of knowledge may close deals that generate less yield that may affect the long term return of investment."
The trick, it seems, lies in getting the right mix of tenant with regards to their space and power requirements, which Wong says will be helped by the more flexible hall partitioning that can be configured at 1-Net North. Of course, we'll have to wait until 1-Net North goes live before we can know if this works in practice.