Paraguay is not a mature market for data center services, but it has a lot of potential for future investment and is creating a lot of interest. In particular, the country is starting to demand colocation facilities for business continuity and disaster recovery. Aiming to meet this need, telecoms company Tigo Paraguay, a subsidiary of Europe's Millicom International, is building a data center in the capital, Asunción, to support its own needs and those of third parties, with some very interesting characteristics.
First, it is a hybrid. The site holds a prefabricated modular data center, designed by Flexenclosure of Sweden, alongside a conventional office building constructed traditionally, with bricks and mortar.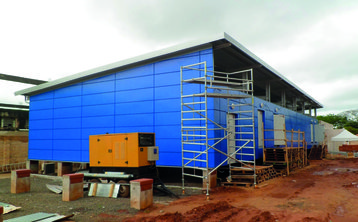 First Tier III in Paraguay
Second, this facility complies with international standards. Tigo has achieved Tier III certification for the constructed facility. "It's the first time we committed to a prefabricated data center, and we therefore wanted to comply with all standards," says Adrian Celma, head of IT and data centers at Tigo Paraguay. Tier III was the appropriate standard for a facility intended for disaster recovery, and it has proven invaluable, he says.
Tigo is investing some $2.5bn over the five years up until 2020 to improve its infrastructure and boost access to broadband services. The company has already expanded its fiber optic network in Asunción to more than 400,000 households.
Within this ambitious investment plan, the facility Tigo is building in Asunción will be the first data center in the country to offer professional colocation services to external clients, including colocation, disaster recovery, infrastructure as a service and software as a service. It will also be the first Tigo data center designed using a modular architecture, meeting Tigo's need for flexibility. Precisely because of the immaturity of Paraguay's data center market, the company needed to avoid the risk of building a concrete mega-infrastructure project requiring high initial investment that would at first remain empty.
Prefabricated design 
The prefabricated data center is based on Flexenclosure's eCentre modules, which are designed, according to the company, to give better control of growth and greater predictability. They have been deployed by Vodacom in Tanzania and Mozambique, MTN in the Ivory Coast, and Burst Networks in Myanmar (formerly Burma). The Tigo project is Flexenclosure's first project in Latin America. "We are doing the project in two phases, which helps us improve costs," says Celma. The two stages will total 760 sq m, with 280 sq m in the first phase, in a room made up of seven non-ISO eCentre modules, holding up to 110 racks. The rest of the space will arrive in a second phase with up to 140 racks, which Celma expects to start building in late 2017.
We can have this data center in six or eight months, instead of 14 to 18 months

Adrian Celma, Tigo Paraguay
Deployment time was a major factor in choosing a modular design. "We can have this data center in six or eight months from the time of the purchase order. By contrast, a conventional data center of this size would take 14 to 18 months." Even that timescale is optimistic, he explains, as Paraguay relies heavily on sea transport. Because this data center is built in a factory, where it has been tested before delivery, the modular design ensures the quality of assembly. "We were in Sweden and had the opportunity to make the first tests of the data center, and also monitor the time the modules take to ship to Paraguay. That has given us peace of mind," says Emanuel Sienra, manager of innovation at Tigo Paraguay.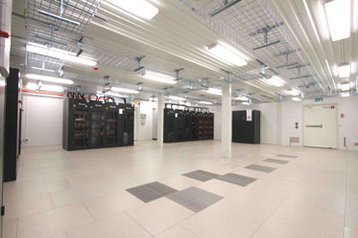 Parallel construction
The construction process proceeded on several fronts simultaneously. While Flexenclosure began making the modules in its factory in Sweden in mid-September 2015, the civil engineering work began in Paraguay. Tigo had to make a foundation to support the modules, which are located at a height of 80cm for wiring distribution, as well as the construction of concrete bases for generators.
The data center modules arrived in the country in late February, and Tigo began the process of physical installation. This was delayed for various reasons, including the El Niño phenomenon, and the data center should open in October. To complete the facility, Tigo needed to construct the portion of the facility adjacent to the modules and carry out complementary work, including car parking areas and landscaping. The project is a unique building, and Flexenclosure will be in charge of the construction of the modules and generators, delivery, and selection of the civil engineering partner in Paraguay. Best practices from Tigo Paraguay will be implemented by other data centers that Millicom is running in Latin America, which offer services to third parties, particularly in Guatemala and Colombia. Millicom already has three data centers in Colombia and plans to complete a new facility this year. Located in Bogota, it will be similar to those in Paraguay: a hybrid construction with the white space constructed from modular infrastructure.
This article first appeared in DatacenterDynamics.es. This version, translated from Spanish and edited by Peter Judge, appeared in DatacenterDynamics magazine.