It's not easy to think of Oracle as a cloud powerhouse. Perhaps that isn't Oracle's fault. Amazon dominates the cloud services market, sucking up about a third of all the business. Microsoft achieves only a third of Amazon's penetration, followed closely by IBM, and Google has not even reached half of the business Microsoft is doing. Alongside that, Oracle's investment in cloud computing doesn't register very high on anyone's radar.
But while most of the attention has been focused elsewhere, Oracle has been building a worldwide network of cloud data centers and migrating its application base to the cloud, with roughly 95 percent of Oracle's current applications able to run in its cloud. During 2016, Oracle has rolled out a number of services and technologies, culminating in announcements by Larry Ellison at the OpenWorld conference outlining the strategies for the cloud that Oracle with be following.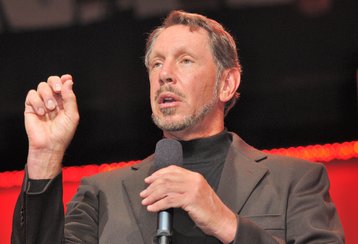 Oracle's cloud as a backbone
Oracle, which now offers infrastructure as a service (IaaS), platform as a service (PaaS), and software as a service (SaaS), has launched its second generation IaaS platform running in the "Innovation Data Center" design. The backbone for the next generation services are the Oracle cloud data centers.
Oracle's data center design is exemplified by the facility in West Jordan, Utah. The 164,000 sq ft facility, which includes 44,000 sq ft (4,088 sq m) of office space, 95,000 sq ft (8,826 sq m) infrastructure support space, centered around a 25,000 sq ft (2,323 sq m) data center space, is designed to use free air cooling in winter, swamp coolers in the summer and technology that permits waste heat for humidification in the cooler months. The facility is designed to support up to four 7.2MW super cells, and is currently at greater than 80 percent capacity.
Oracle has been opening new data centers at a regular pace and is believed to operate more than 20 worldwide at this time. The rollout of the new generation 2 IaaS data centers is highlighted by their focus on a "lift and shift" strategy.
Getting to bare metal
In this model, customers can take advantage of a new Oracle offering, Oracle Bare Metal Cloud Services. Using this, businesses can upload their entire on-premises network, applications and storage directly to a the Oracle cloud. Oracle thinks that this will give it an edge over Amazon Web Services, which has been successful with a managed service, the AWS Database Migration Service which supports migration not only to the same database running in the cloud but also to a new database backend. While Amazon does support Oracle, it is aiming this service at those who want to move away. Amazon's marketing materials use the example of migrating from Oracle to Amazon Aurora.
All this adds up to a serious bid by Oracle to find a strong position in the cloud services market. But will it be enough to win new customers, and not just migrate existing customers to the cloud?
This service is enabled by several features of Bare Metal Cloud Services. Part of this offering is a secure SDN Virtual Cloud Network that allows the customer to treat the service as a secure extension to their on-premises network.
Earlier this year, Oracle announced the Oracle Cloud at Customer suite. This is an on-premises solution that consists of the same hardware, software and operational services used by Oracle Cloud, but installed at the customer site. The customer gets all the public cloud services, infrastructure, and database, as the Oracle Cloud but it now resides on their side of the firewall. Because the environment is identical, the customer is able to more easily move workloads between their on-premises installation and the Oracle public cloud.
Oracle Cloud at Customer differs from products such as the Azure "cloud in a box" offered by several hardware vendors for the Microsoft cloud, as Oracle offers a fully managed service solution; customers access the locally installed service in a subscription format using an elastic metered formula. All administration, maintenance, and updating of Cloud at Customer is the responsibility of Oracle and included in the service pricing, which is targeted at being consistent with the cost of using the Oracle public cloud.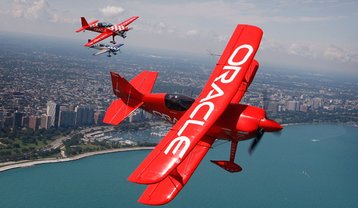 Flagship software goes cloud-first
The latest release of Oracle's flagship database software, version 12c, is, for the first time, being released initially as a cloud service, with the promise of a later release of a traditional software version. This pretty much represents the final stage in complete turnabout from Larry Ellison's often-quoted statement almost a decade ago that the cloud was "complete gibberish."
"Amazon's lead is over," Ellison said at the 12c launch. "Amazon is going to have serious competition going forward."
The database as a service comes in three service levels; Exadata Express, the entry level version, the Oracle Enterprise Database Cloud Service, and the full-blown Exadata Cloud Service. The platform also now supports Oracle MySQL Cloud Services and Oracle Big Data Cloud Service.
Oracle is also rolling out the first new version of the Ravello Cloud Service since Oracle acquired Ravello. This service allows customers to run enterprise VMware and KVM workloads on the cloud without requiring any reconfiguration of the applications, changes to the network or conversion of the virtual machine.
Oracle is clustering data centers in Regions; three self-contained data centers called "availability domains" in geographic proximity clustered over high-speed fiber connections. Data is duplicated across the clusters to provide high-availability and redundancy, and eventually all of the regions will be networked together.
First the North American sites will be connected, then Europe, and then these European and North American regions will be networked together. It's a reasonable presumption that this will eventually apply to some of its Asian sites, currently in China and Japan. The Global Infrastructure graphic from Oracle shows the basic locations of the Oracle data centers and their regions and availability zones.
Is it enough?
Oracle has also fully embraced the container model in its cloud and now offers the Oracle Container Cloud Service which is a Docker-compatible service that allows single-click deployment.
All of these announcements add up to a serious attempt for Oracle to find a strong position in the cloud services market, which, in fiscal year 2015, earned the company several billion dollars. Whether or not it is enough for Oracle to increase its customer base, and not just migrate existing customers to the cloud, remains to be seen.
Once considered to be a day late to the cloud game, Oracle may no longer be that dollar short.
A version of this article appeared in the December/January issue of DatacenterDynamics magazine.