Schneider Electric sells infrastructure products across the data center industry, worldwide - but it seems that the biggest opportunity is in Edge capacity: smaller facilities designed to be closer to data sources, to users and to devices.
Some people believe that the Edge opportunity has been over-hyped, but Dave Johnson, Schneider's executive vice president of IT, says his market is delivering: "Edge is already a significant nine-digit business for us - measured in dollars, euros or pounds."
The true Edge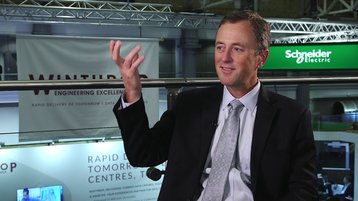 This is partly down to falling margins at the higher end: "The cloud is consolidating to a limited number of players, who are very demanding," he said. "The Edge is growing. There is a large number of players, and the margins are higher."
He is not dismissive of the cloud part of the market; he just sees faster growth at the Edge, a location for which he uses a fairly broad definition: "It is everything outside of big central hyperscale data center. Anything from large regional facilities to a small rack, or a gateway talking to connected devices, where you are closer to the data or closer to the user."
The Edge markets which are being introduced right now are led by retail: "This is our top focus for the Edge. As brick and mortar companies try to compete with Amazon, they need to give customers a better experience in-store, and this is driving Edge computing."
These customers need local and resilient compute, storage and networking, he said, and this is the perfect use case for micro data center, something pioneered by APC, where Johnson worked before the company was acquired by Schneider in 2006: "You need a more resilient and secure solution, you need a remotely managed solution. These are cabinets which contain all the built-in backup power and environmental monitoring. They may even be packaged with software and services."
The next market to develop will be the industrial sector, which Johnson said "is at the piloting stage," with a requirement for local control of factory equipment, and local processing of data for applications like oil exploration.
When the Edge takes off in the industrial sector, Johnson reckons Schneider will have a head start, since it already has a division selling heavy plant, and has an understanding of what is going on in sectors like mining, manufacturing and utilities: "Those are areas where we have looked at a hundred use cases."
Like retail, the industrial sector needs IT resources which can operate outside a traditional data center environment, but there are big differences. Shops are working to increase footfall, while industrial sites restrict access. This means that retail environments are less hostile, but have higher requirements to secure their micro data centers from passers-by.
A lot of attention has focused on the telecom Edge, where micro facilities are installed in the cell towers and "central offices" of the mobile and fixed phone networks. "This is needed for next generation applications like autonomous vehicles, VR, AR and drones," Johnson said.
"You really need a good set up for autonomous vehicles," he added. "Vehicles need to avoid the latency issue, or it can be a matter of life and death. You need something like a micro data center at a cell tower."
Despite this eventual need for a telco Edge, it is still at an early stage, he said. With other vendors talking it up, there's a risk of disappointment: "We are getting close to the peak of the hype part of the cycle."
The risk, as set out in the hype cycle described by Gartner analysts, is the 'trough of disillusionment.' Johnson said: "We are going to try and soften that, by delivering on requirements."
The whole stack
As well as the hardware - those APC boxes which you can be sure Schneider will sell at every opportunity - there is also the software: "We have historically been a leader in DCIM. We have been in the process of switching from traditional software to cloud-based software, which brings all sorts of benefits. There is a big uptick in interest in using those tools for the Edge. Honestly, this was a bit by accident. We recognized the need for remote monitoring, but it turns out that the cloud-based software we intended for the data center actually resonated with the Edge."
The Edge will have no IT staff (what retail store has an on-site data center manager?), and it will require simplified lifecycle management: "The Edge won't have people to provide love and care for the equipment. It needs super-robust systems that won't break."
There simply aren't enough traditional data center people to service the Edge market, and the classic pool of data center expertise is "aging out," he said.
At the same time, millennial users want products like Android or iOS, that simply work: "You don't expect - or need - anyone to help you fix or configure it. The things have to be super easy to use, they have to be self-healing."
If something breaks, the customer will want a replacement module "which can be swapped out by someone who isn't an expert." And beyond that, they will expect predictive maintenance - so they get a replacement before the existing device breaks: "That will eventually be table stakes for the Edge."
Edge customers will also want the proverbial "single neck to throttle," so Schneider will sell through partners, like HPE and Dell: "Customers at the Edge are going to want the whole package to be delivered, supported, serviced and monitored. They aren't going to want to deal with all the vendors of all the bits and pieces in a micro data center."
Implicitly, Johnson likes the Edge because it has higher margins than facilities run by giant vendors in the cloud space - but the downside of this is that Edge resources are more expensive. No one will adopt it unless they really have to - and the cloud providers will continue to argue that with enough bandwidth, they can do better - and cheaper - with centralized data center resources.
"The providers of cloud services will fight this, but there is a wave of connected devices - that is a fact. Every vendor is trying to make devices connectable and manageable, the scale of that will require Edge."
Another alternative to Edge micro-facilities, we suggest, is to push the resources right down into the end-user device. Johnson turns this idea over: "So with autonomous vehicles, that would require a mesh. I need a really, really fast response. And I haven't seen mesh networks reliable enough for that. I don't see any way of managing autonomous vehicles without serious Edge computing."
On another level, applications like autonomous vehicles suffer from their utter dependency on the Edge. "It's chickens and eggs. You can't do driverless cars without Edge, and you can't do Edge without cell towers, and if you look at projected timings for 5G, well…"
None of these considerations cause him any worry. The big picture is that the Industrial Internet of Things (IIoT) is crucial to Schneider, and the company is lining up its software and hardware to be part of it. He believes it's a shift that is - almost - inevitable.
"A few years back, Cisco bet the farm that people were going to do everything using voice over IP (VoIP). Are we betting the company on the Edge? We are not quite there yet."
To hear him talk, it's clear he thinks we are not far from that point.
This article featured in the October/November issue of DCD>Magazine. For more information, or if you'd like to subscribe for free, click here or fill in the form below: