There was a certain stillness in the air on the main stage at the OpenStack Summit 2016. It was like the pause between a sharp sigh of relief at the end of an arduous task and the deep inspiration of breath when a new task begins.
The sigh was because OpenStack could at last be regarded as production-ready with over 50 percent of the OpenStack projects out of development and playing a real part in data centers around the world. This was proven as the keynotes progressed and highlighted some major deployments coming through at AT&T, Verizon and Volkswagen. OpenStack has grown up.
The sharp intake of breath is what I would call the prospect of the Gartner Challenge.
Burn the heretic
A year ago at the Gartner Infrastructure, Operations and DataCenter Summit in Sydney, Gartner research director Alan Waite was reported to have savaged OpenStack by calling its open clouds "science projects" – or that was the clickbait element highlighted in the news story headline. What he actually meant was that OpenStack was good but you needed teams of techies to throw at the task of getting things working together.
With just the basic news report to go on, the evangelistic OpenStack communities were, at the very least, crestfallen but many of them were angry.
A year on and Mitaka, the 13th iteration of OpenStack, was released just days before the Summit in Austin, Texas. Such a thing happens once every six months and many of the communities are already working on Newton, the 14th version, wile some are thinking one step beyond, looking forward to Ocata, version 15. The opening keynote briefly mentioned Mitaka, as the speakers soon moved on to other things. After all, many of the attendees had been working with, or on, Mitaka and knew in great detail what was in there.
It started well as Jonathan Bryce, executive director of the OpenStack Foundation introduced two stalwarts of the Foundation - creative director Todd Morey and director of marketing Lauren Sell – who announced that the first Summit in 2010 attracted 75 attendees and this year it had swelled to 7,500.
Bryce returned to single out some of the 2,336 developers from 345 companies who contributed to Mitaka, asking them to stand up so the audience could applaud their efforts.
Then came the moment of drama as he introduced Donna Scott, a distinguished analyst at Gartner. The subject of Scott's keynote was bimodal working in the data center. She spoke of a predictable Mode 1 and exploratory Mode 2, and of the arduous task of switching between them to grow a company.
Bimodal working is a split in the IT provision between maintaining the slow and predictable rhythm of normal, core business processes, while running a fast track, hack and sack exploratory mode in parallel – stability versus agility. This Mode 2 exploration (what we used to call R&D) allows new ideas to be rapidly built, tested and then discarded or adopted to offer leading edge services for competitive advantage, eventually maturing to become part of Mode 1 processes as the company grows.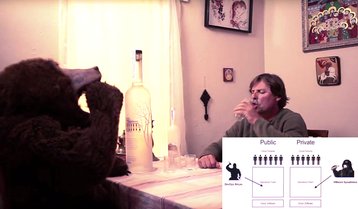 Redemption day
Then came the moment the crowd was waiting for, as she recommended starting OpenStack in Mode 2 developments. "Then, over time, refactor and on-board Mode 1," she added.
This pleased the audience. At last, Gartner was making approving noises. It was like the sun had burst through the clouds.
When Boris Renski, the outspoken co-founder and CMO at Mirantis, stepped up to give his presentation, the main thing people will remember are the cheers and applause when he said, "We like Gartner at Mirantis, now that they are not saying OpenStack is crap." Well, they'll recall that and the strange vision of a vodka-drinking bear.
The perpetrator of the original Gartner "insult" was in the audience and took exception to Renski's remark. In his Summit review blog Waite wrote: "Hang on," I thought, "did I ever say OpenStack is crap? Have I changed from not recommending it to recommending it?"
In fact, a blog he wrote in the month before his notorious speech posed the question Is OpenStack a Success? And the first paragraph was a simple statement: "Sure it is."
In fact, analyzing the analysts shows that Gartner hasn't changed its thinking. OpenStack has become a little friendlier but it is still a tech product for IT engineers and this narrows the market. Mitaka has moved it in the right direction and this will attract the developer community to iron out more usability issues in Newton.
In his latest blog, Waite declares he has not changed his view and offers the following use cases:
Build a private cloud with OpenStack if you require true cloud IaaS characteristics on private infrastructure, you are an organization with access to substantial engineering resources, and you are committed to open-source principles and seeking a "standard" infrastructure provisioning API, reducing lock-in to current proprietary vendors.
Use a managed or outsourced OpenStack-based private cloud if you meet the above requirements but lack engineering skills or budget to implement and maintain the complex environment.
Base your private cloud on a packaged OpenStack-based distribution/CMP (with support from a large vendor) if you meet the above requirements but must implement an OpenStack environment yourself and are less concerned about lock-in and more concerned with simpler implementation and support.
He then stated: "The key here is that OpenStack is a great solution if you fit the use cases for it."
The Gartner Challenge therefore is to address usability issues to make OpenStack easier to deploy and, particularly, to manage. The signs are there and containerizing products like Kubernetes and Docker will definitely be part of this taming process but these just make "packaging" easier. The problems are still there in the core. There are too many points where you have to open the hood, get out the toolkit and start tinkering. 
This was the real message behind OpenStack Summit 2016. The pieces of the puzzle are in place but OpenStack is still a puzzling place to be if you don't have the technical smarts. Newton will address this but getting the right interfaces and dashboards takes time. We're starting to see drag and drop implementations but the technology still needs to mature a little more.