Almost any data center requires quality optical components, and logic suggests network engineers should turn to original equipment manufacturers for their Direct Attach Cables (DACs) or transceivers.
But there's a trick to choosing interconnects: you see, most networking OEMs don't actually manufacture optics – they buy optics in bulk from the people who do. OEMs then use cabling, connectivity standards and vendor codes to 'retain customers' – the practice better known as vendor lock-in.
Vendor codes are particularly interesting – these strings of characters are stored on tiny memory chips embedded in the transceiver itself to identify 'compatible' hardware. If the transceiver returns the wrong code, the switch or router will issue a warning and will simply refuse to work.
This practice has enabled major equipment vendors like Brocade, Cisco, Dell or Juniper to charge several hundreds of dollars – sometimes up to $1000 - for a piece of otherwise unremarkable cable or circuit with a manufacturing cost of less than $100.
The situation is even worse if customers need to link hardware from multiple vendors, since transceivers then have to support multiple codes. And what if your equipment was manufactured by a company that no longer exists, and you have no official source of optics?
Daylight robbery
Luckily, vendor codes are not proprietary, which means compatible transceivers and DACs can be sourced elsewhere (i.e. China), and these are colloquially known as the 'compatibles'. But while branded kit guarantees reliable performance, these much, much cheaper alternatives will not – and reliability is the currency of the data center.
This is where businesses like ProLabs, OSI Hardware or Fiberstore come in. These companies represent 'the middle ground' by offering optics with a lifetime warranty, fully compatible with networking kit from most major vendors.
For example ProLabs stocks transceivers that support equipment from 50 different OEMs, and are available up to 70 percent cheaper than branded kit. The secret is lower marketing costs, modest margins and lots and lots of research into networking standards.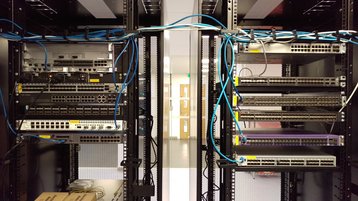 The company was established more than a decade ago as part of Zycko, an international IT distributor based in the UK. Seeing hidden potential in the compatibles market, ProLabs became independent in 2013 and went through considerable expansion over the last 18 months. In January, it opened new European headquarters in South Cerney, a village halfway between Bristol and Oxford complete with a warehouse, testing lab and even a gym.
ProLabs sources its parts from China, possibly from the same factories that make branded optics, and tests them in its own facilities to ensure consistent levels of quality. In addition, the company always keeps a full range of stock, so your emergency DACs will be delivered in days not weeks – something that often happens when ordering parts from a major OEM.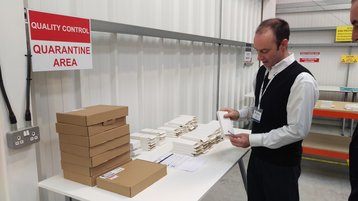 According to Nick Moglia, CEO of ProLabs, networking vendors will often tell their customers that using a compatible will invalidate the warranty on the rest of their IT estate. He dismisses this as a scare tactic, since no company will ever put such a clause in writing. "Our job is really in the ongoing education process, to tell people it's OK. We've got plenty of customers that have been buying from us for years".
In some cases, compatibles can even expand on the features of OEM interconnects: for example existing multi-coded transceivers support hardware from Cisco, Juniper and Arista all at the same time.
Let's say you're running switches from three different vendors. Sure, you could order an original DAC whenever one of them develops a fault, and wait for it to be delivered. Or you could simply stock a type of cable that works with all three.
There's just one drawback to this model, but it's a serious one: the long delay between the moment when a networking OEM releases a new piece of equipment, and when a corresponding 'compatible' appears on the market.
To create a copy, upon release the original transceivers have to be reverse-engineered. There is no actual intellectual property inside, and all interconnects are based on the same industry standards. But since OEMs don't cooperate with makers of compatibles, this process can take up to two years.
Moglia tells DCD that ProLabs is steadily reducing this gap, and has recently managed to produce a specialized 10G Copper SFP module just six months after it first appeared on general sale.
Brand loyalty
The networking landscape is changing fast thanks to the efforts of projects like OpenDaylight and Open Compute. Today, we already see proprietary networking hardware running open source software, and open source hardware running proprietary code.
Global supply chains are changing too: access to factories in distant parts of the world has been democratized, and now anyone with enough cash on hand can order an entire manufacturing run of products online.
Both of these trends seemingly undermine long-term prospects of compatibles as a line of business. But the laws of supply and demand remain the same. While there are people who are willing to pay over the odds to get a branded piece of cable, there will be people who are more than happy to sell that branded piece of cable at a premium.
And as long as some networking engineers remain loyal to brands, the market for compatibles will flourish.
If you are interested in learning more about data center cabling systems register now to our next webinar.