Huawei has updated its data center product range with switches designed for next generation 25Gb Ethernet connectivity to the server, even though the related standards are not expected to be finalized until 2016.
CloudEngine 8860 is the industry's first high-density Top-Of-Rack (TOR) switch to offer 25Gb access speed - now supported by the company's FusionSphere servers – along with 100Gb uplink connections.
Meanwhile the CloudEngine 12800 switch series has received new 36x100G high-speed line cards, maximizing port density for a total performance of up to 160 Tbps.
Both of the new products fit into the Cloud Fabric 3.0 architecture – based on Software Defined Networking (SDN) technologies and introduced at the Huawei Networking Congress (HNC) in Beijing last week, where the company also demonstrated its new kit.
Jumping the gun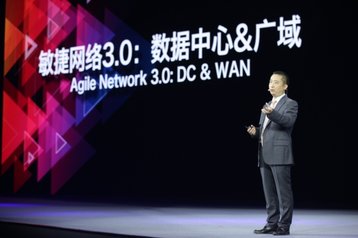 Until recently, the Ethernet speed upgrade path was clearly defined as 10Gb to 40Gb to 100Gb. However, new approaches to networking have resulted in an alternative: 10Gb to 25Gb to 100Gb, with potential for 50Gb in the middle.
The changes are being driven by cloud and hyperscale data centers, since 25Gb offers better utilization of hardware and a more logical upgrade path. 25Gb Ethernet relies on a single strand of copper or fiber, as opposed to four 10Gb lanes used to achieve 40Gb of bandwidth.
The idea is to connect one 100Gb port on a TOR switch to four 25Gb Network Interface Controllers (NIC) on servers in the same or even adjacent rack. This approach reduces the number of hardware components necessary and the amount of power they consume, resulting in cheaper, more scalable networks.
Huawei says there are clear economic benefits to using one Ethernet lane instead of four. "For 25Gb, I believe the cost is always lower than 40Gb," said Liu Shaowei, president of switch and communications product line at Huawei, during a press conference.
"The 40Gb legacy, it will exist for a long period. Some people like more bandwidth – there might be different segments of the market here."
It is important to note that while 100Gb Ethernet standard has been formally approved, 25Gb connectivity is still being worked on by the 25Gb Ethernet Task Force within the IEEE (Institute of Electrical and Electronics Engineers), as part of the project '802.3by'.
According to the timetable approved in January, the organization expects to finalize this standard by September 2016. That's not stopping Huawei, or other vendors working in this space – for example Arista, Broadcom and Mellanox.
The fact that 25Gb Ethernet relies on the same principles as 100G means that all of the underlying technology is already there – and the recently established 25Gb Ethernet Consortium aims to fill in the blanks while the IEEE group comes to a consensus.
Huawei is planning to launch dual-lane 50 Gbps Ethernet devices in the near future. It developed the new switches in close collaboration with Qlogic – the first company to demonstrate end-to-end 25Gb Ethernet connectivity.
It was Qlogic that provided the specialized Ethernet adapters for FusionSphere servers, creating a complete 25Gb ecosystem – albeit one that's currently limited to a single hardware vendor.