Perhaps the most lucrative market for server manufacturers today is network and cloud service providers. They're looking for servers that aren't just modular but molecular. They're called "nodes" now. CPUs in these nodes are like worker bees, and network routes are no longer hard-wired steel but plastic.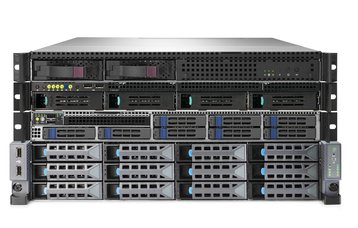 It's hard to re-cast an enterprise server — especially HP's venerable ProLiant — as a node.
On Tuesday, HP made a critical strategic shift, with the beginning of a completely new server product line aimed at service providers following Facebook's Open Compute specifications, and data centers paved with OpenStack infrastructure. It's very difficult for any manufacturer to differentiate a new product in an emerging market that is intentionally undifferentiated.
But HP is going to give it a try anyway, with the launch of what it calls Cloudline — on the opposite side of the product scale from Apollo.
Differentiating the undifferentiated
"The big trends of cloud, big data, security, and mobility are dramatically impacting how IT is being delivered," stated Derek Howard, HP's worldwide service provider marketing manager, in an interview with DatacenterDynamics. "The trends are impacting service providers in a number of ways. A lot of the changing conception models are driving the strong adoption of cloud services, and service provider customers are demanding greater levels of simplicity, cost effectiveness, and security.
"So they need to leverage these advancing technologies to address customer demands," Howard continued. "They need to create differentiation to fend off strong competitors; and then they need to move to offer differentiated cloud services."
Product differentiation, HP contends, will come from the customers who build on the new Cloudline server platform. That said, HP will endow Cloudline with built-in software that should enable smaller SPs to spin up basic cloud services for their initial customer bases.
The phrase typically used here is "out-of-the-box," but this time there is no box, only racks. Cloudline servers will be designed for purchase in bulk. Once they become available March 30, they can only be purchased at rack scale — not in server units, but in rack units.

Beginning March 30, HP will make available - only through direct purchase - Cloudline racks consisting of three models: CL1100 (above) will be the most cost-efficient in the series, a simple two-socket 1U server with Web server roles ready to go. Model CL2100 includes provisions for more memory- and storage-intensive compute applications in the same 1U, 2P form; and CL2200 (below) boosts storage capacity for big data applications, in a 2U form.

Two more models, the CL7100 and CL7300, are two-socket sleds geared for high-capacity compute applications, and will only be available through HP account managers.
"We already have the medium- and high-grade tiers for going down more of an enterprise path, with ProLiant or some of our HPC-centric platforms like HP Apollo," explained John Gromala, HP's senior director of hyperscale product management, also speaking with DatacenterDynamics. "Cloudline adds that dimension for us to go down that more cost-focused path, and really come up with those basic designs that can be managed at larger scale. In all cases, we're making sure that we have good efficiency designed into these systems operationally, and have very close relationships with these customers to make sure that the designs we're creating fit their needs very well."
Cost as the key factor
From a hardware standpoint, Cloudline's components will be stripped down to the most basic elements. Intel Xeon E5 v3 processors will power these systems, including models that Intel developed specially for the service provider market. Cloudline will be the culmination of a joint production agreement announced last April between HP and China-based Foxconn, which thoroughly understands the principles of mass production.
But this time around, HP isn't proudly flying the "Intel Inside" banner as it would with servers for other markets, because this time around, performance may not be the big issue. Cost is.
"From a cost point of view, these are very basic, Spartan hardware features that are really made for software-resilient workloads — places where the software determines the availability and needs of how you route traffic," explains Gromala.
The rack-scale purchase requirement speaks not only to how service providers purchase systems today, he continues, but how they manage them. When a part goes down, software-defined networking routes around the rack with the failed part.
"Because their software can steer traffic across multiple nodes, they're not afraid to purchase a larger number of nodes, and deal with the lower availability of each individual node," Gromala tells us. "So instead of putting redundant power supplies in every single server, they're going to just buy an extra 5 or 10 percent more servers… so that they can deal with failures that occur at a system level, rather than at a component level."
Over the long term, this remediation strategy ends up saving significant costs for SPs, he says.
Optimizing for different demand levels
Derek Howard says service providers are under increasing pressures to deliver services in accordance with ever-tighter SLAs. So as their hardware provider, HP is under tighter demands to reduce complexity and lower costs. Then on the software side of the equation, HP can help those SPs distinguish and prioritize the SLAs for their own customers (think "silver / gold / platinum" service tiers).
"The software will optimize to ensure that those service-level agreements are met," Howard says. "It's a unique feature within the software that we've designed, that enables them to deliver on the SLAs that they're committing to, for their end-user customers. And the cool thing is, they can design them. They're customizable by end-users, and they have the ability to slice-and-dice them up."
It is a new and still embryonic market: this new realm of cloud services. Unlike almost any market ever served by IT, it's distinguished by the extent to which its infrastructure is indistinguishable. Companies with big banner brands like HP have never played to such markets, but companies like Foxconn that fly under the radar, have. How they jointly approach this new market will change the way we consider data center technology. But right this moment, we can't be certain just what that change will be.