Most data centers aren't very aesthetically pleasing; most are non-descript boxes on the edge of town. But occasionally a new data center catches the eye for its visual impact.
Ashton Old Baths in Greater Manchester UK is certainly one of those. A 19th-century public swimming baths house built in Greater Manchester, UK, the building is Grade II* listed by Historic England for its architectural merit, putting it on a par with the iconic Battersea Power Station in London.
Despite its beauty, the baths in West Ashton-under-Lyne lay empty for 40 years. But they've now been converted into a tech hub, offering more than 10,000 sq ft of office and coworking space. In its most recent phase of development, a new data center was added to the building.
As well as housing local council and NHS infrastructure, space in the new facility will be offered commercially through a co-operative. Tameside Council said this data center was less about money and more about providing the digital infrastructure needed to enable and keep digital businesses in the local area.
This article appeared in Issue 42 of the DCD>Magazine. Subscribe for free today
Old Ashton Baths: A tech hub with history
Built in 1870, the Ashton Swimming Baths were designed in the Italianate style of architecture by architects Paull and Robinson.
An abandoned Victorian bathhouse in Greater Manchester, the Ashton Old Baths has now reopened as a council-owned data center
The building boasts Flemish bond brick with slate roof and stone dressings and Historic England described it as an "important early example of a municipal swimming bath" having "exceptional forceful architectural massing and use of stylistic features."
The swimming pool was said at the time to be the second-largest covered bath in Europe. Operating as a bathhouse during the entire time it was open, it also hosted concerts as an orchestra venue, a tennis club, and a restaurant.
The Baths closed in 1975, after which it changed hands a number of times. Grade II* listing restricts the changes that can be made to a building, and it was years before it found a new permanent owner or new use.
For some years Historic England listed it on its Heritage at Risk register as an important building at risk of being lost.
"It was a beautiful Victorian baths, which up until about 30 years old was still in use, but since then was going downhill very rapidly," according to Tim Rainey, assistant director of, Digital Tameside, a division of Tameside Metropolitan Borough Council (TMBC).
Manchester-based developer PlaceFirst bought the site from Ask Developments in 2014, and, began the task of transforming it into its new role. Listed buildings can be eligible for grants, and the project got funding from the Heritage Lottery Fund, the European Regional Development Fund, and the Borough Council.
Sara Hilton, head of the Heritage Lottery Fund North West previously said: "Ashton Old Baths is a fantastic example of 19th-century architecture which has served and inspired generations of local residents. Its fascinating history is tightly interwoven with the social history and culture of Ashton and Tameside."
Scrubbing up the baths
The council bought the site from PlaceFirst and the renovated building reopened in 2016.
Paul Stevens, director at project architects MCAU called the development an "amazing opportunity to form a catalyst to help regenerate the whole area in Tameside." The conservation architect on the project was Stephen Levrant Heritage Architecture.
"Because of its listing we had to be very careful," says Rainey. "There were an awful lot of rules around what we could do with the building. So in essence what we've done inside is build an ark. The Baths building has been brought back to its full glory, and then in the middle of it is a huge oak ark, which houses the offices for the digital startup businesses."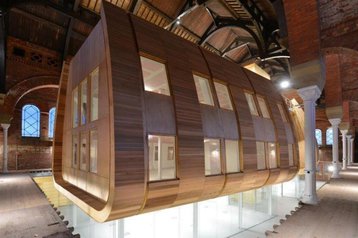 This approach removed some of the complications of trying to make significant changes to listed buildings, and helped the building achieve a BREEAM 'Very Good' rating - normally a difficult thing for an older structure.
This year, the second phase was completed, which added a new council data center to the building, to replace a facility that was demolished several years ago.
"We razed our HQ to the ground about six or seven years ago and as part of that we lost our data center," says Rainey. "We temporarily moved all of the council data center equipment and computer system into Rochdale Council's data center."
"The intention always was to move them back into Tameside into a joint facility with the NHS. It took longer than we probably first thought it would."
The 150 sqm (1,600 sq ft) data center is a 'room within a room' design built to Tier III standards with a steel frame and modular wall and ceiling panel construction. It was built in the original spectators' gallery, next to the original Victorian pool, which is now filled in.
The data center has two independent UPS systems in a separate plant room next to the data hall. Data center developer Sudlows, with a partner, put together a bespoke BMS (building management system).
Sudlows looked at other design options including splitting the facility over two floors, but eventually opted for a single story, 36 rack data center consisting of four pods, according to Anthony Duffy, senior account manager.
"The first pod is for colo, another pod was going to be given to the NHS and then the others are for the council, but it's not been totally defined," he says.
The data center has standalone security controls – including CCTV and biometric door access – not connected to the main building. Sudlows can provide a full audit trail of who was in and out of the data center and what racks were accessed.
The facility delivers around 2.5kW per cabinet, and can be expanded to meet demand, says Rainey.
"To start with we didn't want to go with the maximum amount of power, because we were conscious that from day one we wouldn't need all of that power," he said. "We started off with the intention of growing it as the facility itself becomes fuller."
According to government documents, Sudlows won a £700,000 tender ($970,000) from TMBC in May for data center facilities management at the Bath. Rainey says the agreement for management and maintenance will run for ten years.
Aesthetics and heritage
Most data centers are anonymous white-walled rooms, but Tameside Council wanted more aesthetics.
"We were very careful; one of the briefs with our architects and with Sudlows was we didn't just want a warehouse with a lot of racks in it," explains Rainey. "We wanted something that would visually fit with the Ashton Baths offices.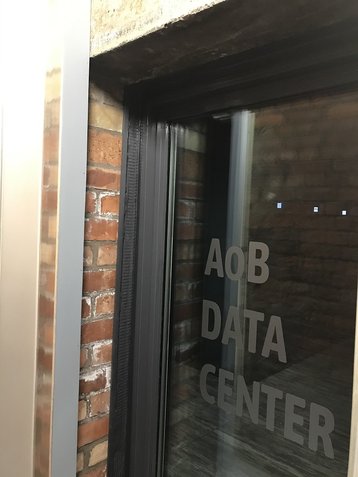 "We went to quite a lot of trouble to make sure that the data center itself has got windows and glass walls with colored lights. As you wander around the annex, in the middle is this data center which you can see into, with color-changing lights in the walls so that it looks an attractive feature. It just fits in with the history of the building, but also fits in with the technology side of the building as well."
Most retrofits are in repurposed warehouses or factories, so it's rare for a data center firm to be involved in a building with so much history and local cultural cachet.
"As a building, it was really exciting," says Sudlow's associate director of data center design, Zac Potts. "Being a Manchester-based company, some of the engineers working on the projects live in and around Ashton, and have been driving past the building for years."
"From an engineering point of view, as a data engineer, I think a lot of data centers look quite good. But this is a totally different type of facility. The building itself has got so much history in it. It is a unique building where we're dealing with constraints, English Heritage, and trying to respect the architecture of the building."
The company had to consider carefully where to drill holes and interact with the listed parts of the building. Duffy says that the majority of correspondence with English Heritage was going through the architecture partners, but when they did deal with the organization they were "very sympathetic" around what had to be done to bring the building up to required standards.
"We had to be very considerate of the space and work within the constraints," adds Potts. "One of the reasons for the room-within-a-room approach was so that the space itself was almost independent of the existing structure, so that we didn't have to damage the structure by bringing it up to what you need within a data center.
"The aesthetics within the data center, trying to get that balance as to how we can
meet both the requirements of this being a focal point of the building, while still being a live, operational, and secure data center was an interesting kind of part of the project."
Digital cooperatives and community
This phase of development cost around £5 million ($6.8m), bringing the total project to around £15m ($20m). As well as hosting data and applications for the council, the NHS and other public sector partners, the new resilient facility will offer space to commercial tenants, through a cooperative.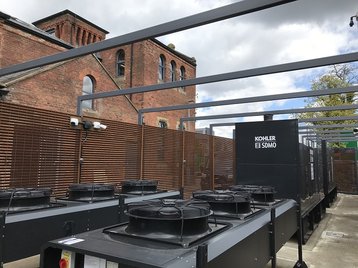 "It took us quite a long time to decide that the co-op was the right operating vehicle, for the commercialization of the public sector investment that had happened in Tameside," says Rainey. "The NHS, and the council, and the colleges, and the various housing associations have all chipped in to make the fiber network that the data center is at the heart of."
The Cooperative Network Infrastructure brings together public and private sector organizations to create and share digital infrastructure; public sector partners invest in new infrastructure assets – whether fiber, ducts, or rack space – where they have a business case; those assets are then joined together to form a coherent, integrated infrastructure that can be shared using the cooperative, and offered to telcos and other companies.
"It's open to everybody and everybody gets the same price," says Rainey. "If you're Virgin or if you're a small independent IT company based in Tameside, you get charged exactly the same for accessing rack space, or fiber, or duct, it's a completely level playing field."
In the network, there is no single owner of the passive layer; rather a 'thin layer' co-operative 'presents' the disparate assets as a single infrastructure to multiple operator-service providers [whether in-house IT departments, ISPs, carriers, and specialist VPN suppliers, or systems integrators].
Rainey explains that all public sector bodies that have made those infrastructure investments get rental income from the co-op as it rents fiber, duct space, and rack space to the commercial telcos, which the telcos themselves then can go out and market to businesses and residents around Tameside.
"They just rent the infrastructure that's already there without having to make big investments or putting their own infrastructure in place."
As well as Tameside Council, members of the cooperative include CityFibre, Virgin Media, Zayo, the Brighton Digital Exchange, a number of NHS Trusts and local colleges, as well as councils such as Lancaster City, Blackpool, West Sussex, and Manchester City.
Ensuring the data center was built to Tier III standards was important to Tameside's commercial plan, guaranteeing it was on an equal footing with other facilities.
"We always had a view that we needed to commercialize this. It's the first and only commercial data center in Tameside, and we wanted to make sure that it was Tier III and the kind of facility that all businesses, as well as government, will be comfortable to use," Rainey says.
"We took the time with Sudlows making sure that we had the right infrastructure and security in place; biometric locks, and CCTV, and the correct doors. We've ended up with a unique data center site inside an absolutely fantastic, renovated building in Tameside."
But ultimately the goal wasn't money, but creating an ecosystem that can allow digital businesses to grow and hopefully enable them to stay local for longer.
"The data center is important for creating a digital hub, around which we want digital businesses to coalesce and we want to grow that digital creative sector," says Rainey.
"We've invested a lot of money in Digital Tameside in fiber in the ground and ducting and data centers, and we've done that and saved the public sector a lot of money. But the prize was never really saving money; the prize was always the economy," says Rainey. "We knew that if we didn't make investments like this in Tameside, businesses that need connectivity, rack space, and data center space would end up leaving."
Rainey says that as telcos begin to deploy fiber more widely, Tameside would not be high on the list of areas to invest in, which could have harmed the local economy.
"Places like Airport City, in the northern quarter of Manchester, would steal a march and we'd end up losing business or losing jobs. Businesses would go to areas that have got that kind of connectivity and those kinds of facilities."