Water cooling is a good thing, but the benefits of liquid cooling really start to add up when you switch from water to dielectric, take the coolant inside the IT equipment, and apply it directly to the electronics.
Taking a bath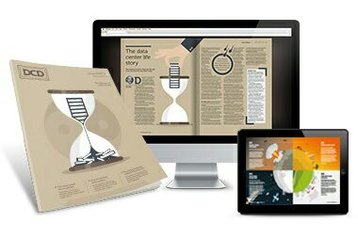 Dutch startup Asperitas wants you to dunk your servers into its specialized module, the AIC24, submerging up to 48 servers in a twin configuration in a water-cooled oil-immersion system that uses natural convection to circulate the dielectric fluid.
Within those modules, the AIC can support any type of server mainboard up to a maximum size of E-ATX (12×13") for a 1U chassis. It can also accommodate two cassettes that hold switches.
The data center in-a-box supports up to 22kW of pure IT power with a footprint of 600x1200 mm.
"So far we have had a very positive response," CEO Markus Mandemaker told DCD. "People we talk to are less cautious than expected."
But, with that said, the company has struggled to overcome fixed mindsets, Mandemaker said: "The biggest hurdle is people's perception. We're a new company, presenting a new technology which changes your way of working.
"If you are a data center company wanting to expand, you call a consultant, and everybody starts going by the existing framework because that's how you build a data center."
Asperitas hopes it can reach beyond the high performance computing market where most liquid cooling systems are deployed, eying a much larger prize. "We've designed this for cloud providers," Maikel Bouricius, Asperitas marketing manager, said.
"Liquid cooling is an old idea, but what we did was focus on usability to make it easy for cloud providers to use it and make it fit to their business."
Ease of use is an area which Asperitas was keen to tout, highlighting the AIC's automatic opening and closing cover and specialized arm which pulls servers out of the oil. "We thought about how to deal with it not just when things are running, but also when something happens," Bouricius said.
Another focal point is the price, Mandemaker stressed. "Floor space can be smaller. You don't need the raised floors. You don't need the aisle separation. You don't need the cooling installation."
When compared to other liquid cooling systems, the company said AIC24 was cheaper because "any direct liquid cooled system still needs some airflow," whereas its system relies exclusively on natural convection.
The medium is a cheap medicinal quality oil, like Vaseline but with a different viscosity, bringing more savings.
"If you compare it to the 3M Novec-type solutions where you need very expensive liquids for the multiphase cooling, I only actually see those kinds of solutions in smaller environments," Mandemaker said. "I haven't seen huge data floors with 3M or Iceotope solutions because it's too expensive."
But before the company can start to see huge data floors of its own, filled with AICs chained together, it still has a way to go.
Asperitas is now shifting into production mode, after running a prototype version at The University of Leeds for a year and a half. It has had several discussions described as promising, including with the Dutch Army, but its dream of supplying the booming cloud market remains elusive, for now.
Boosting the circulation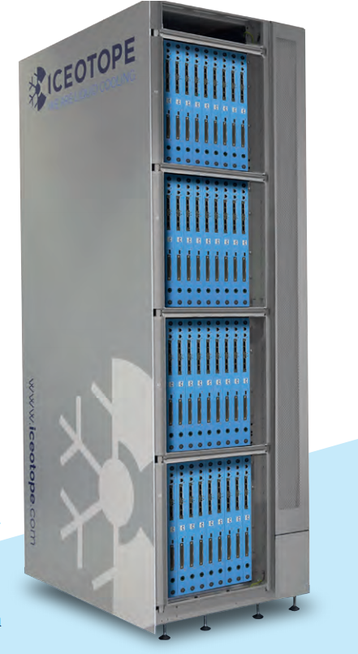 When British liquid cooling company Iceotope started out more than a decade ago, it was pitching to research projects and high performance computing environments. It was an obvious match – supercomputers produce more heat than your average stacks of servers, and liquid cooling solutions remove heat more efficiently than those based on shifting large volumes of air.
"Why? It is a space that tends to invest in new technologies, it's a space where you can test stuff out, and it's a space that has a lot of problems that can be solved with liquid cooling," David Craig, CEO of Iceotope, told DCD.
Today, after years of testing, the company has found a new, possibly more lucrative target market: edge computing.
Iceotope's Petagen system wraps each server blade in a metal case filled with dielectric coolant – namely Galden, made by Belgian chemical company Solvay. The blades are installed in a rack-sized chassis that circulates water to remove the heat.
The system can considerably increase the density of compute, since cooling capacity is pretty much the only factor that limits how many servers you can install in a square meter of space. As a consequence, it can also reduce the overall footprint of servers. And hot water produced by the system can be collected and re-used for other purposes, like central heating.
"There's a whole set of technologies where compute cannot be done in the cloud – because of data sovereignty, latency or some other critical issue," Craig said.
"As we get more interconnected devices and more people move to cities, there will be a huge demand for close and local processing – and it will be part of our ability to compete in the future. Global competition will be based on proximity and speed."
What makes Petagen a perfect fit for edge computing is its ability to turn any enclosed space into a data center. The system doesn't require computer room air conditioning units, humidity control systems or air purification. There are no fans, so it doesn't produce any noise and can be placed in the middle of the office, or even a library.
"If you are going to be running your data center from an old brownfield site, from a warehouse, you can drastically reduce your cost of operation. You can then drastically improve the pricing of the service you are offering to your customer," Craig said.
And it's also good for some of the more extreme environments: "We recently looked at the example of a 300kW containerized data center that was going to be deployed in Australia. In that instance, we would be reducing the container size from 40-foot to 20-foot, and there would still be space left for a desk and a chair for somebody to work inside it. We would be having external temperatures of 50°C (122°F), creating huge amounts of stress on the internal environment.
"That containerized space we are perfect for – because we can deal with 45°C (113°F) inlet water. So get hot, feel free. We can handle it."
A version of this article appeared in the June/July 2017 issue of DCD magazine