Scott Peterson is head of a would-be data center giant. The new company is grandiosely named Global Compute Infrastructure but, right now, his outfit is so small and new it only has four staff. I just checked, and it doesn't even have a website.
But he's worth talking to for two reasons: his track record and his backing. He co-founded and helped to build the world's largest data center operator, and now he's moved on and got himself a big pot of money from Goldman Sachs, the uber-investment house whose efficiency earned it the sobriquet "the great vampire squid."
Oh, and one more thing. Global Compute may be a fledgling formed in late 2020, but it's already got a purchase under its belt: a Polish data center operator with 42MW of capacity.
This article appeared in Issue 40 of the DCD>Magazine. Subscribe for free today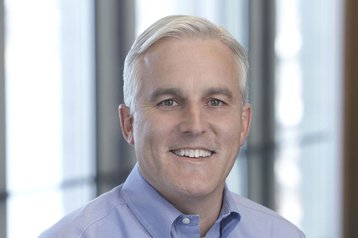 Building Digital Realty
Back in 2004, Peterson was one of the founders of Digital Realty, a company he stuck with for 14 years, during which time he engineered $17 billion in deals and mergers, leaving it the largest data center company in the world - currently with more than 275 facilities and worth some $35 billion.
"I was there," he says. "We were five people in a conference room, and we had $500 million from CalPERS [the first investor was California Public Employees' Retirement System], to execute a strategy that was technology related real estate."
What became Digital Realty started out in GI Partners, with the idea of owning technology companies that had real estate applications, but it "morphed into more of a middle market kind of buyout shop," he says. "We bought a facilities management firm, which was focused more on technology related real estate out of the Enron bankruptcy."
In the early days, GI Partners bought different things, including a Hollywood studio, and a chain of British pubs, but quickly found its niche: "All that was interesting, but the best traction we got was in the data center side."
Internet-related properties were drastically undervalued after the crash of the early 2000s: "The dot-com implosion had happened, and people said the Internet's dead. There's no use for it; it's just a novelty. Our fundamental belief was the Internet's not going away. It's here to stay; it will come back; it is the future.
"A lot of people thought we were crazy. But I thought, at the very least it's a really good value play. We were buying these things for huge discounts for replacement cost, and great yields."
It rang bells for Peterson. Working at GIC in the 1990s, he'd bought office buildings in Singapore during a slump in commercial property: "In my view, it was a very similar model. There was a real dislocation of capital that was mispricing the opportunity. So we did very, very well."
In late 2004, Digital Realty took on its identity and floated on the stock market: "We decided to take it public. And that's when it became a real company."
As demand for data centers came back, Digital started developing new assets, buying land for development, and acquiring portfolios: "We took the business across the rest of the US, we started on a campaign to expand through Europe, we got into APAC, and did a couple of deals in Latin America.
"And along the way, we came up with this full spectrum strategy of space, power and connectivity on a global scale."
Peterson engineered deals: in 2015, Digital Realty got into the colocation business by buying Telx for $1.8 billion. In 2016 it bought "Equicity" - a set of eight European data centers which rival Equinix was forced to sell off by the EU, as a condition of Equinix buying Telecity. In 2017, Digital bought its rival Dupont Fabros for $8 billion.
"I'd been fighting since 2006 to get us into the colo business," he said. "We acquired Telx, the following year, we acquired Equicity.
"Shortly after that I actively started working on David Ruberg [the CEO] at [European colocation leader] Interxion. I worked on that for many years, and they finally got it done the year after I left, which is good! The price was a little high at the end of the day, but I'm happy for Dave."
All that established Digital Realty as a $35 billion behemoth. "Whether it was a $5 million piece of dirt, or a $7 billion acquisition of DuPont Fabros or anything in between. our group really was the one that took us around the world and expanded the global footprint," he says. "Before I left, we'd done about $17 billion worth of transactions and costs."
If you put a value to them, he says, "these deals created the vast majority of the enterprise value of the company and I'm extremely proud of what we did."
But there was one deal that eluded Peterson: "I spent three years trying to get us to merge with Equinix, which would have really been transformational in the industry. But unfortunately, we just couldn't quite get over the last couple of deal points, and then it fell apart."
These days, regulatory concerns would present the two largest data center players from combining, he says: "But boy, if you imagine back in 2012 or so it would have really created a platform that would be very difficult for people to compete with. But that ship has sailed."
Moving on
Peterson left in May 2018. He was CIO [chief investment officer] of the eighth largest publicly traded REIT in the US and Digital was listed in the S&P 500, but his time was heavily committed: "Board meetings, earnings calls, investor conferences, and all that other stuff chews up about six or seven months a year - that's pre committed January 1 - and you have to have a life and take a vacation. And somewhere in there, you've got to work. I was like, do I want to do this for the rest of my life?"
He didn't want to retire: "I like working."
Things had changed by 2018, he said. "It used to be that [Digital Realty] were the only guys that had access to significant equity, but there was a lot more equity coming into the business. Digital always had the lowest cost of capital in the industry, but I thought, well, I don't think they really do."
Debt was coming back, he says: "Investors wanted into data centers, but couldn't quite figure out how to do it."
At the same time, large colo customers' demands were changing: "I had watched them go to these far flung areas like Oregon and Nebraska to put their capacity - only to realize that it was a lot more expensive to push data around than they thought and the latency was not great for their customers."
Large colo customers - and enterprises - wanted to come back to the population centers. "They call it the Edge, we call it core markets. I realized that that was going to continue to occur across the globe - and that presents an awful lot of opportunity.
"If we could find a competitive source of capital we could put all that together and come up with a better solution for customers. They don't need cheap money, right? They need somebody who can get them capacity, at a reasonable number, in the timeframe and the quantities they want."
Peterson is clear that he doesn't want to create another Digital Realty, but he could see opportunities that Digital couldn't grasp: "When you're Digital Reality, you get stuck. You have to do things that fit within the REIT mold, and you have to do them in a volume that is meaningful. You've got a $35 billion denominator, right? You can't go do something that's going to generate $20 million of profit, because it doesn't go anywhere."
He said Digital "had trouble doing deals with some cloud providers," whose model was a "build and sell model: you build a building and you sell it." The rates for that were low: "Digital can't just build and sell buildings. It's a one time game that the investment community completely discounts. You've got to deploy capital, and you've got to do it in a way where you get long term rental revenue streams.
"There are all these things that Digital can't do that are attractive and interesting, and we know how to do them. That's really what led to this," he says."Smaller, nimble competitors [have] got a smaller team to cover, fewer mouths to feed. If you have really good people in the right positions, you can outperform the companies that have a lot of people."
When he says small, he means small: the company was four people when we spoke, and expects to grow to maybe ten people.
The COO is another Digital Realty co-founder, Chris Kenney ("he actually was there a few months before me"); the European head is Stephen Taylor, who was Digital's former head of EMEA for seven years, but actually worked with Digital Realty before that, while at CBRE. "We had a sourcing relationship with him to find deals for us in EMEA, starting around 2006." From CBRE, Taylor joined Sentrum which was bought by Digital.
The CFO is Doug Lane, formerly at GLC Advisors: He's a banker. We realized we needed somebody that was more than a pure real estate CFO, somebody who had more of a structured finance background. He's a guy I've known for 25 years."
The founders invested their own money in the venture, but the plan was to get a strong financial backer: "I went to a very focused group of potential partners and had a real solid list of what we were looking for. It was all terms and economics and governance and that, but the biggest, one you can't really put in a spreadsheet, is chemistry: finding the right guys, right?
"Do they have a global presence? Are they used to investing globally? Are they good guys? Do we see eye to eye execution?" he says, "And I really found that in the Goldman guys, and they found that with us as well."
Making deals
Global Compute was set up in August with $500 million from Goldman Sachs, a figure that could translate into $1.5 billion in deals when other investors come on board.
By the end of the year, it had made its first acquisition, ATM SA, a Polish company with three data centers in Warsaw and Katowice: "I think that's a good example of one that it'd be tough for Digital to do. It's a small company in a secondary market. I think we found a great opportunity and market that's poised to grow really well. We're partnered up with the best platform in the country, and through that we can address Central and Eastern Europe."
The company could do other types of deals: "We will buy assets, we will buy development dirt, or we will do developments on our own, we will do joint ventures with other groups. We can make investments outside of the pure real estate side of this. We can do connectivity plays. I don't think we'll do cell towers, but anything that allows the customers of the cloud to consume the cloud is something that we could be doing. But it'll mostly be data centers."
Within that, he's definitely aiming for large deals: "Most of the customers we're focused on are hyperscalers. That's where the demand is. You know, large transactions with a high credit counterparty? Of course, they're attractive. But I think there's more to the business than that. There are more opportunities, so we don't want to be myopically focused on that."
Geographically, Global Compute will focus on Europe and Asia to start with, but it can afford to be opportunistic: "We think the fundamentals in Europe are particularly attractive. I think they're also attractive in Asia. Latin America is also attractive, behind the other two markets."
He has deals in the pipeline in Europe and Asia, and in Brazil: "we have a couple opportunities there that we're actively working on."
The need for data centers in Africa, likewise, is interesting: "I think it's the Wild West. But with the connectivity conductivity that we see going there… if you're in sub-Saharan Africa, you've got two choices. You're going to send everything North, or you can send it South to South Africa."
He comes back to size: "When you're Digital Really, you'd have to say 'I'm going to build five or six buildings or I just can't go there, because I can't allocate the resources.' Well, we could do one building in a market like that. If it's successful our goal would be to do more, but we can easily accommodate doing a one off transaction in these more distant markets."
Don't expect any Global Compute business in North America just yet, he says: "I do like North America, but I think it's a little late cycle right now. Northern Virginia is and will remain the best data center market in the world. But it's crowded. Everybody wants to go, and the dirt price! Land prices are astronomical, and there's a lot of competition.
"I think we can be successful there. But the question is, how much time do you have to devote to do something kind of given the difficulty of acquiring the land and the cost and the competition, we just think our time is better invested someplace else."
"I'd rather do something that's creative and unique and provides a solution to a customer, as opposed to slugging it out in a market where they've got a ton of options. We're not differentiated at that point to the customers. We're just one of the crowd."
According to Peterson, "our real value is in finding markets with good supply and demand fundamentals. Our real value-add is not buying a piece of dirt and spending four years trying to develop it. We can do that, but we'll do that in joint ventures with other people.
"We call ourselves a tweener or a hybrid. We're not pure operators and not pure capital allocators. We live in that space in between. We have a capital allocator intelligence and discipline, with operational capabilities, so we can adjust our focus within any particular transaction."
At the moment, Peterson would be very happy to have a queue of people proposing deals Global Compute might enable. He doesn't predict any slowdown.
"I've been in it for almost 20 years now, and I think the demand fundamentals are gonna continue to be good throughout however long I'm willing to work."