Practically every customer today asks about cloud connectivity, as they seek to roll out robust hybrid deployments, says Michael Goh, director of data center services at NTT Singapore.
Unsurprisingly, the push towards hybrid cloud is motivated by a desire to tap into the unique elasticity and agility that this architecture offers, while still remaining firmly in control of their data.
The enterprise cloud
"Hybrid is definitely a trend. Almost all requirements that I can see today outside of the financial services institutes include a hybrid cloud infrastructure," Goh said. "Everyone is trying to connect to cloud providers so that they can burst their services using the cloud.
"The most common way entails putting common applications such as web and email in the public cloud, while sensitive data reside within their infrastructure – be it colocation or an on-premises private cloud."
Meeting the evolving needs of enterprises is likely the reason for NTT's strong push into the cloud. The company is both a colocation provider and cloud provider, and its cloud infrastructure supports both hosted private cloud and public cloud offerings. NTT has also invested considerably in a cloud management platform to tie everything together.
"Our cloud management platform allows for connectivity not just to our infrastructure, but also to multiple third-party cloud providers," Goh explained. "Aside from standard cloud agility and auto provisioning capabilities, our cloud also works with other cloud providers such as Amazon Web Services (AWS) and Microsoft Azure, as well as bare metal provisioning."
NTT's cloud is available at dozens of locations around the world - and all of them are interconnected. "We connect our enterprise cloud data centers together using our private connectivity at 10Gbps between sites."
Getting it right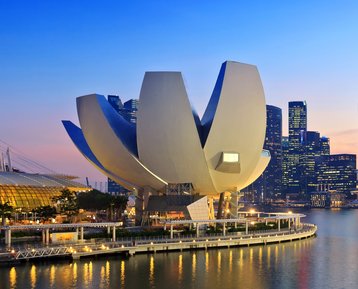 According to Goh, one of the biggest challenges for hybrid deployments revolves around correctly estimating the colocation space that is required. "The most difficult aspect for customers is to size up their colocation space. They may plan for a certain size, but more often than not, make changes within two to three years, or even in the same year. Some may expand, while others may reduce their footprint."
Nevertheless, getting your colocation requirements right is possible, and Goh has seen a few companies manage this very well.
"There are some very good CIOs who spend a lot of time planning and on the framework, rather than just reacting on business requirements. The latter are sometimes too tied down to fulfilling those requirements to be able to plan properly for the future," he noted.
"[Successful] companies typically have very strong framework and policies when it comes to cloud deployments. They are very clear about what goes into the cloud and what doesn't go into the cloud. They take a longer term view of their business requirements of up to three to five years."
Of course, Goh was quick to highlight that NTT offers consulting for planning and deploying cloud services, and has managed services and networking capabilities on top of its cloud and colocation offerings.
Any parting words of wisdom?
"You need to look for providers and data centers that offer a hybrid connection. In this day and age, we need to be flexible and not be tied to a single provider. Look at different vendors. Most providers are in a good position to advise them on their route to the hybrid cloud. Don't rush, do your proper planning. These are the fundamentals to the journey."
To find out more about data centers in Singapore visit the DatacenterDynamics Converged conference, taking place at the Marina Bay Sands Expo and Convention Center on 14-15 September.