AirTrunk's data center in the West of Sydney will, once built out, be the largest data center in Australia and one of the largest in the Asia Pacific. Followed quickly at the end of 2017 by the commission of a facility in Melbourne, these facilities represent further arrivals of 'hyperscale' into Australia and all that means for standards of design and operation, business strategy and branding.
AirTrunk's Sydney data center at Huntingwood, New South Wales opened in September 2017 and was followed two months later by another data center in Derrimut, Victoria. The two data centers will offer total power capacities of over 80MW and 50MW respectively and on that basis are the largest facilities in their respective States.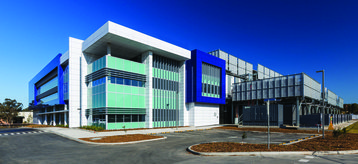 Fast progress
Aproaching AirTrunk Sydney down the shallow incline from Huntingwood Drive, our first view is of the AirTrunk brand colours, blue and white, contrasting with the black and grey of power modules and cooling equipment set to the side and top of the building. Beyond the existing building, construction machinery rakes the surface of the ground where the second stage will be. An immense on-site power feed sits at the front of the building and connects the data center to the grid.
This is AirTrunk Sydney, six months on, and AirTrunk's founder and CEO, Robin Khuda, is here to tell us how satisfied he is with the work: "So far we are very happy with our progress. We delivered super-fast to match customer demand."
Would he have changed anything? "We had a listen-and-learn with all of our stakeholders, including our own design and construction team and we incorporated most of these initiatives in the current phase."
The Sydney and Melbourne facilities embody the speed and scale of the hyperscale data center. The review of the first phase construction sped up the process by which the facility was delivered to market: the initial 20MW construction at Huntingwood took 44 weeks, by Melbourne this had reduced to 42 weeks while the next 10MW at Huntingwood taking shape on the land towards Sydney's Western Motorway will take 35 weeks.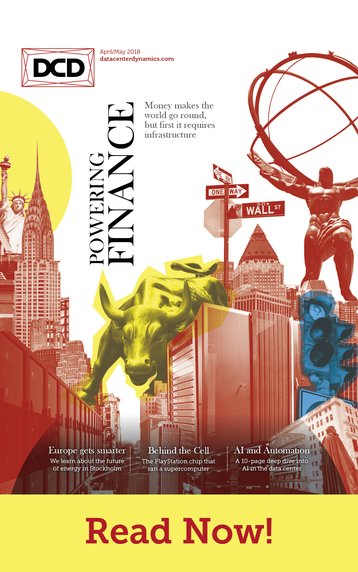 Building at scale
And then there is scale. AirTrunk has invested around $50 million in its own power infrastructure for Sydney and Melbourne, so each site can scale up and grow with customers. The design is modular, with dedicated standardized components for power, cooling, security so the company's deployment will remain consistent.
"We will have fully autonomous data halls here," explains Khuda. "They are like Lego structures with Lego blocks for the utilities on the outside. We improve speed by making sure critical paths happen at same time".
The environmental footprint of hyperscale facilities is important, but this is not easy in Australia. For now, AirTrunk is addressing this onsite through efficiencies in design and operation, rather than through purchasing renewable energy direct - but there is a long-term plan to move in that direction.
"Sustainability is important for us and for our customers but we have some challenges in Australia, both in the cost of renewables, and that they still have to go through the grid," says Khuda. "You can't buy them direct. We have a sustainability road map over time. Not just 1 or 2MW for marketing purposes, we are looking at the whole thing".
The design of the data center has removed a number of inefficiencies through the use of automation, an increasing development of AI as a means of optimizing operation. Electricity is delivered to the rack from the sub-station in just three stages - a fraction of the number of stages in a legacy system.
Thanks to these measures, AirTrunk Sydney can claim a PUE as low as 1.15 at 70 percent load while Melbourne reaches marginally lower at 1.13 on an annualized basis. The modular design of the data center means that PUE can be measured individually for each customer.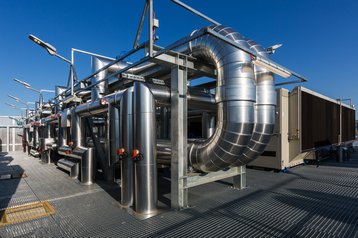 Flexibility through modules
Modularization also means the space can be customized for individual customers' demands. The separate data halls each have their own power and cooling systems, creating a series of data center modules which can then be configured for individual requirements of resilience or environment. Once completed, there will be over 30 data halls within AirTrunk Sydney.
The CRAC units and power infrastructure are located outside the data hall where they can be maintained and repaired away from the server racks. As Khuda points out this increases reliability by minimizing human entry:, "90 percent of downtime is human error".
As part of the modular construction, the power train units and UPS are factory-fitted before arrival on-site, so they are ready to connect into the data hall late in the fit-out program. For example, micro-modular 1MW units comprising multiple smaller rectifiers and inverters are located together on the ramparts of the building within view of the substation immediately below.
Khuda says AirTrunk believes that the data center is the critical infrastructure that will enable the cloud for the future. To achieve this, the data center needs to be more than "just a box": it has to meet increasingly stringent requirements from the new generation of cloud, IT service and enterprise companies.
"With the coming of public cloud, there was a gap in the market beyond the legacy way of designing data centers for public cloud, and an opportunity to design for better cost efficiency and scalability," says Khuda. "We have done a lot of work to get to this point. The first years of the business focused on the R&D phase so we can build cheaper, faster and scalable."
It may sound obvious, but to build based on demand, you have to understand and follow client needs. Khuda has management team with significant experience of the public cloud data center, and AirTrunk has put effort into developing partnerships and supply chains.
Start with an anchor
AirTrunk chose to start in Australia at the behest of an unnamed anchor tenant, and Khuda expects continued growth to come from other sources, including consumer services and the migration of legacy IT: "We don't see any stop to the demand which is mainly due to switching legacy services to cloud-based services. I can see strong growth in IT services continuing to move to the public cloud - the content providers, the telcos as they launch 5G, Netflix – which accounts for more than 40 percent of the data traffic in Australia. Then there is AI and IoT so I think we are in a very exciting time at an early time of growth."
AirTrunk has plans to expand, based on demand, into Tier 1 markets, where requirements are strong, with Japan, Singapore, Hong Kong and India mentioned as possible locations: "China is a different market and there are a lot of regulatory requirements. Then there are the emerging markets - Indonesia, Philippines, Vietnam - but we are not seeing enough demand for hyperscale there at this stage. We are not seeing 20, 30, 40 MW levels of demand so it is the Tier 1s first."
Our visit to AirTrunk Sydney suggests the future of the service data center in Australia is large. More than that, the model for design and operation based on efficiency, scalability and modularity is convincing, so long as it is supported by a service model which enables can deliver facilities quickly, and which balances the need for standardization with the flexibility to meet individual requirements.
This article appears in the April/May 2018 issue of DCD Magazine. Subscribe to the digital and print edition here: