An HP-led consortium has won a £933 million ($1.45bn) contract to modernize the IT and communications infrastructure for the UK's Ministry of Defense (MoD).
The latest stage of the Defense Information Infrastructure (DII) project will involve the delivery of services like the OpenStack-based Helion cloud and Microsoft Office 365 to nearly 200,000 users, by the Atlas consortium, which also includes Fujitsu and others.
The initiative is expected to result in savings of £1 billion over the next 10 years – which will be reinvested directly into the country's defense.
"I want to deliver information capabilities that are a force multiplier for both the business space and battle space through closer strategic alignment with industry partners," said Mike Stone, chief digital and information officer at the MoD.
"By September 2016, our users will experience information capabilities that are tailored to their mission, location and role, and that can be accessed at the right time, through a choice of devices, over a cost-effective, modern and adaptable infrastructure."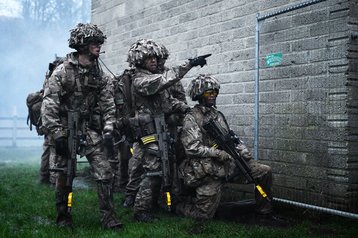 The military cloud

As part of the GV1 Reset program, Atlas will transform core IT services run by the MoD in the UK and overseas. Besides HP, the consortium includes Fujitsu, Airbus Defense and Space, and CGI.
Atlas was originally awarded a ten-year contract for the DII program in March 2005 – considered to be one the largest, most complex information infrastructure projects to be rolled out in Europe.
Part of the new contract is actually a renegotiation of the original DII deal. It has been split into two projects: New Style of IT (NSoIT) and Global Connectivity. As New Style o with HP responsible for former, and Fujitsu – the latter.
Among other things, Atlas will deploy Helion Managed Private Cloud, HP Enterprise Services for Microsoft Office 365 and HP Unified Communications Services based on Microsoft Skype for Business. The project will also involve new connectivity services, workplace management systems and mobile device security.
Following the upgrade, users will be able to subscribe to, amend or remove new services through a modern catalogue, paying only for what they need.
"The solution HP and its partners developed for the UK MoD will increase workplace productivity by enabling high-quality connectivity for users, in any place, on any device," said Howard Hughes, senior vice president, Enterprise Services EMEA, HP.