Digital Realty has purchased 16 acres of land next to the data center campus it is developing in Garland, Texas - an additional investment of $400 million on top of the $1.05 billion previously committed to the project.
The wholesale colocation provider envisions a 1.4 million square foot campus, comprising five buildings, to be constructed incrementally.
Where the big boys come to play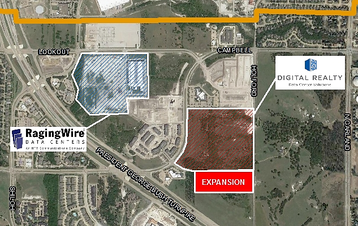 Located near RagingWire's recently completed 80MW data center, the site is adjacent to the Bush Turnpike toll road - named after the 41st President of the United States - which circles Dallas.
The Texan city, coupled with its western neighbor Fort Worth, makes up one of the biggest data center markets in the United States - and indeed, it was second only to Northern Virginia in the first half of 2017, according to CBRE.
The area is favored by companies that have their corporate headquarters in Dallas, including Toyota, FedEx, Liberty Mutual, JP Morgan Chase, Fannie Mae, Pizza Hut, Capital One, and Ericsson, to name a few.
Garland's director of economic development, David Gwin, said the project was made possible thanks to "an advantageous location, aggressive public partner, access to quality infrastructure and a superior locally-owned and operated electricity provider." 
"We look forward to many more exciting development announcements in the near future," he added.