Dalian Wanda has denied "vicious rumors" that its billionaire chairman Wang Jianlin was prevented from leaving China for a trip to London.
The rumor, which came from Chinese-language financial blogs and spread to larger outlets, caused shares in the giant property developer's only publicly listed unit to drop by as much as 11 percent. Meanwhile Wanda, which earlier this year teamed up with IBM to sell cloud services in China, has seen increased scrutiny from Chinese regulators over overseas investments, and has begun to sell off billions in assets to cover debts.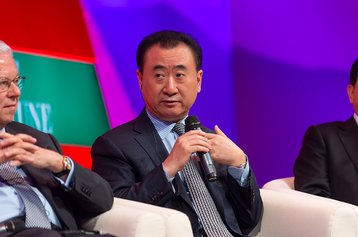 Wanda fire sales
"Certain individuals with ulterior motives have recently created and spread various vicious rumors regarding the chairman of Wanda Group, Mr Wang Jianlin," the company said in a statement. It, however, declined to reply to various publications about the location and status of Wang Jianlin, including which country he is currently in.
This is the second time in recent history that Dalian Wanda has seen shares in its Hong Kong-listed Hotel Development division fall, after the China Banking Regulatory Commission in June warned of "systemic risk" presented by "some large enterprises" that were aggressively investing overseas.
The next month, rumors circulated that state-owned investment firms had been ordered to sell Wanda stock and corporate debt, which the company denied. Soon after, however, reports from a meeting between regulators and bankers were released that showed state-owned banks had halted lending to Wanda and its subsidiaries.
The Chinese government has ramped up efforts to crack down on overseas spending sprees amid growing concerns that businesses built on loans from state-controlled banks pose a threat to the financial system. Some regulators believe that companies could be intentionally overpaying for foreign assets to move money out of China.
Earlier this month, China's State Council codified various regulations that emerged over the last year targeting "irrational" overseas investments in the property, entertainment and sports sectors. According to China's commerce ministry, these investment curbs brought outbound investments in non-financial companies by Chinese groups in the first seven months of the year down from $103bn in 2016 to $57bn.
With this in mind, Wanda has been rapidly selling off assets and scaling back ambitions - it plans to sell 13 theme parks to property developer Sunac for $6.5 billion, 77 hotels to R&F Properties for $3bn, and pulled out of plans to buy a plot of land in central London for $600m.
The curious case of the missing billionaires
While Wanda denies that Wang Jianlin was unable to board his private jet and was detained for several hours, this would not be outside the realms of possibility in China.
In December 2015, Chinese conglomerate Fosun lost contact with its billionaire chairman Guo Guangcheng for four days after a Communist party anti-corruption campaign. After the news was made public, Guo resurfaced claiming he was "assisting" the Chinese authorities with a special investigation. Then, in July this year, reports again said that he had disappeared, but Guo appeared on a livestream with the Singapore skyline in the background disputing the notion.
Another case is that of Anbang's founder and chairman Wu Xiaohui, who appears to have been detained by Chinese authorities since early June 2017. Bloomberg reports anonymous sources claiming authorities want the Chinese insurance conglomerate to sell off its overseas assets, such as New York's Waldorf Astoria hotel.
Earlier in the year, politically-connected billionaire Xiao Jianhua disappeared suddenly. The New York Times reports than on January 27 he was taken out of the Four Seasons Hotel in Hong Kong in a wheelchair, his head covered by a sheet or blanket, and taken by boat to the Chinese mainland - where he has remained in custody since.
This billionaire crackdown may also be connected to the upcoming Communist Party Congress where the nation's leaders are chosen and the party's agenda is set. This is expected to take place this autumn, between August and November, some claim that heads of all major listed companies and state-owned enterprises are required to remain in China until it is over.