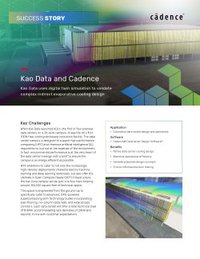 In 2018, when Kao Data launched KDL1, the first of four planned data centers on a 36-acre campus, it was the UK's first 100% free-cooling wholesale colocation facility.
The data center campus is designed to be cutting edge in terms of supporting high performance computing (HPC) and intensive artificial intelligence (AI) requirements but not at the expense of the environment. In fact, environmental performance was put at the very heart of the data center's design with a brief to ensure the campus was as energy efficient as possible.
To cater for this, an Indirect Evaporative Cooling (IEC) system – using water evaporation in place of mechanical systems to cool the air – was considered and later adopted to create a data center that was greener, as well as more efficient and cost-effective to run.
In this exclusive case study we learn how Cadence worked alongside JCA Engineering and Kao Data throughout this project, providing CFD simulations of both the external and internal environments of the data center campus to help make informed decisions around design, implementation and operations.