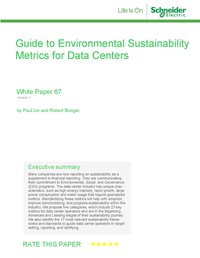 Reaching sustainability goals is an increasing priority across the data center industry, but having a clear set of metrics against which to judge success is an essential aspect of this.
The data center industry has unique characteristics, such as high energy intensity, rapid growth, large power consumption and water usage that require specialized metrics. In this whitepaper, Schneider Electric proposes five categories of sustainability, within which 23 key metrics should be measured to judge how sustainable a facility is.
Comprehensive frameworks for data center sustainability

A guide to creating actionable sustainability strategies to implement efficient design, optimize operations, introduce renewables and decarbonize supply chains.