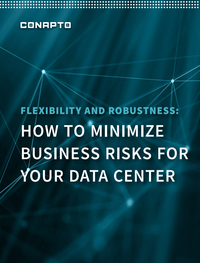 If the task to come up with a new strategy implies that the old strategy has outlived itself — or at least proven itself wrong on too many occasions — the stage is now set for a new approach. Flexibility and robustness could be great tools for building a solid posture against threats towards your data center.
Robustness, since it ensures that necessary measures are taken to minimize the (unwanted) aspects of shifts in market conditions and therefore eliminates any uncertainties. Flexibility on the other hand does not neutralize these effects per se, but simply enables your business to adapt to them.
Download this detailed and insight packed publication from Conapto to uncover their advice on building a robust and flexible environment.