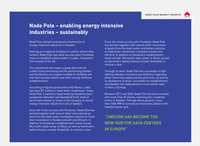 Node Pole markets and assists investments in energy-intensive industries in Sweden.
Starting as a regional initiative in Luleå to attract data centers, Node Pole saw early success when Facebook chose to establish a data center in Luleå - Facebook's first outside of the US. This investment has meant a great deal both for Luleå's local community and for positioning Sweden and the Nordics as a region suitable for building and maintaining data centers and other energy-intensive establishments.
According to figures produced by IHS Markit, Luleå has seen $1.2 billion in total direct investment. Today, Node Pole is owned to equal share by Swedish power companies Vattenfall and Skellefteå Kraft, both of which have chosen to invest in the company to attract energy-intensive industries to all of Sweden.
Since the initial success with Facebook, Node Pole has worked together with several other international giants from the data center and battery industry to make their investment in Sweden smooth and efficient. In addition to Facebook's establishment, these include Microsoft's data center in Gävle, as well as Northvolt's battery factory outside Skellefteå, to mention a few.